Volunteer and ways to get involved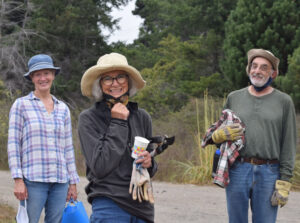 A Special Request from RCLC to:
Come join us!
Redwood Coast Land Conservancy preserves the natural coastal landscapes and wildlife habitats of southern Mendocino and northern Sonoma counties for the benefit of our community and future generations.
Our non-profit organization has a volunteer board of directors. RCLC also has many ambitious community volunteers who work on projects from public outreach and social media campaigns to fundraising and natural habitat restoration. Broader Mendonoma actively supports environmental preservation.
RCLC's community outreach team is looking for volunteers to engage with the larger community and other public and non-profit organizations.
Activities include all aspects of community engagement activities, both virtual and in-person, including the following:
Conduct research, find resources, and propose new ideas to help make informed and impactful decisions about event opportunities, achieve event team buy-in,
Event planning, coordination with community partners, prepping of event materials,
Design basic visuals to support events and promotional efforts (event fliers, online images, etc.),
Assist volunteers with planning and logistics, as needed, and track activity results,
Support the coordination of volunteer outreach programming, attend volunteer meetings,
Coordinate school programs, special events and projects, gardening and other special projects; welcome visitors, and
Volunteer recruitment
If you would like to get involved, please send an email to tgairola@rclc.org
Getting involved with RCLC is easy.  First, sign up with our email list to learn about events, news and volunteer opportunities.
Then, to support our efforts to preserve the Mendonoma coast, donate to Redwood Coast Land Conservancy.
Want to do more? We invite volunteers to participate in our conservation efforts.  Read about volunteering below.
Visit our Protected Properties for hiking, coastal viewing and other recreational opportunites.
There are many opportunities to help out.  Redwood Coast Land Conservancy is recruiting volunteers for its expanding mission.
Volunteer Coordinator Cheryl Harris says, "The energy and passion of volunteers is what makes this conservancy work."
RCLC needs volunteers for a wide range of activities, both outside and inside:  trail and property maintenance, tabling at events, publicity, fundraising and more.  We invite you to contact Cheryl Harris to learn more at volunteers@rclc.org or via our contact page on the menu.
The organization has also expanded its volunteer Board of Directors, who serve 3 year terms.
In addition, there is another level of volunteer Advisors with specialty skills who provide guidance and technical expertise.  If you have professional level skills such as real estate, law, journalism, fundraising, public relations or environmental expertise, we'd like to talk. Contact us.
Are you considering volunteering?  Fill-out our online RCLC_volunteer form to help us get to know your interests.  Volunteering is a way to get to know other like-minded people in the community and to support Mendonoma conservation efforts.  We welcome all levels of volunteering.
Below, volunteer Anne Hanlon posts to RCLC's social media account.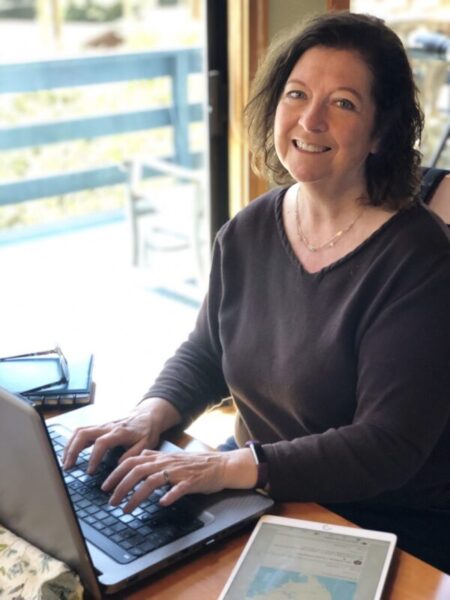 Volunteers participate under the guidance of board members in one or more of our committees, listed here.
Board Committees: Land Acquisition, Stewardship, Fundraising/Outreach, Finance, Environmental and Cultural Outreach
To see the descriptions of each committee, go here.
Your gift helps us maintain our conservation properties, protect new ones and provide public access to unique and scenic areas of the coast.
As a 501(c)(3) California public charity, donations are tax-deductible as allowed by law.
You may receive tax benefits from donating IRAs (Individual Retirement Accounts) or stocks and mutual funds.
Donations will automatically make you an RCLC member for the year.  Enjoy member events and the chance to support the land trust in an ongoing way.
We host public events throughout the year.  Attend educational talks, tours, fundraising events, volunteer social meetups, public forums and more.
Watch the local newspaper, Independent Coast Observer (ICO) or RCLC calendar to find dates for events.
Sign up for our email list
Keep in touch by signing up for our email list.  You'll receive news, volunteer opportunities and invitations to Redwood Coast Land Conservancy events open to the public.
Visit one of our conservation properties
Visit one of our land trust protected properties.
Enjoy Cooks Beach, above.  It's a family-friendly beach with a sandy cove.
From Hearn Gulch's stunning sea stacks and roaring surf to the ocean and river views of the Gualala Bluff Trail, there's lots to love on the RCLC properties.
Our latest project, recently purchased, is Mill Bend in the estuary of the Gualala River.  Join a tour to see more of it.
We invite you to get outside and enjoy the best of the Mendonoma area.