"Preserving the land, restoring the river, sustaining our community"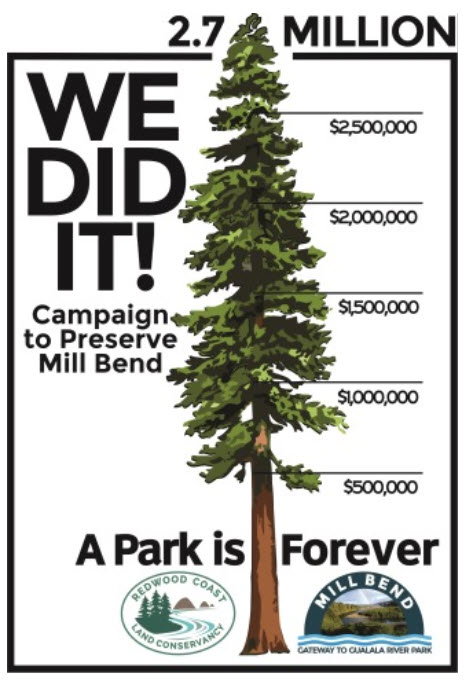 The campaign to purchase the Gualala River Mill Bend has crossed the finish line.
With community help, we have raised the needed $2.7 million to purchase the 113 acre property from a conservation buyer. 
The Mill Bend Conservation Project is being run by Redwood Coast Land Conservancy (RCLC).  We are a local land trust that serves the coastal northern Sonoma and southern Mendocino counties of California. RCLC will take ownership and responsibility for the stewardship of Mill Bend.
RCLC has applied for and received three major grants as well as private donations towards our goal of raising $2.7 million.
View the Press Release announcing the grants for more details.
Your support helps preserve this northern California wild and scenic river habitat and estuary while allowing responsible recreational access.
An exciting part of this project will be working to restore Coho salmon and steelhead fish populations in the Gualala River.  The California Coastal trail will also get an expansion by connecting Mill Bend to nearby Sonoma County Gualala Point Regional Park trails.
We invite you to stay in touch by signing up for email updates.  Donations for Mill Bend development can be made online or by mail.  Thank you for being a part of creating this new park!
"I have been a supporter of this project from the start and have been glad to advocate on behalf of Redwood Coast Land Conservancy so they can obtain vital funding.  Restoring and preserving these lands will not only bring much-needed recreational value to the area, but it will have long-lasting benefits for our invaluable coastal wetlands and uplands habitat."
Jared Huffman, U.S. Congressman, CA. Second District
Want to know more about Mill Bend? Visit the Mill Bend page for more information on this unique coastal estuary and upland property.
"Every time we go by Mill Bend we realize how lucky we are to have such a treasure."
Diane Phillips, Mendonoma resident
The Mill Bend Conservation Project is an exciting opportunity for restoration and public access. Click on the image below to view Mill Bend planning or go to this infographic.