Redwood Coast Land Conservancy manages several coastal properties for preservation and public access.  We invite you to visit them.
Gualala Bluff Trail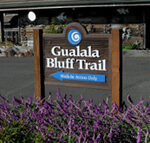 This view trail is located in the town of Gualala, overlooking the Gualala River and the ocean.  It provides an easy stroll for wildlife viewing and expansive sea and river vistas.
Hearn Gulch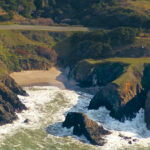 This site is classic Mendocino coast, with breezy bluffs that look out to sea and a sandy pocket beach with Hearn Creek running through it.  Craggy sea stacks break up the surf just offshore.
Cooks Beach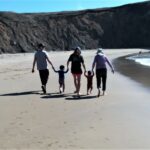 Cooks Beach is a popular summertime beach just a couple of miles north of the town of Gualala.   It's great for sunning, dog-walking and sand play in the stream that meanders through one side of the beach. 
Mill Bend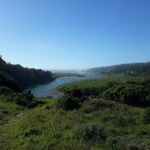 Redwood Coast Land Conservancy is working with a conservation buyer to acquire this scenic 113 acre property.  It includes the coastal estuary next to the town of Gualala and an uplands area that once housed historic logging mills.
Non-public RCLC properties
Whitely Memorial "Will's Rest" property is a pritate lot donated to RCLC.  Due to difficult access and the presense of sensitive native plants, this lot is preserved for conservation alone.
Please contact us if you own a property that you would like to consider for donation to RCLC.
Redwood Coast Land Conservancy public access protected properties