The Gualala Bluff Trail is a short, popular trail at the edge of town that overlooks the Gualala River and estuary.
You might see harbor seals that frequently haul out near the mouth of the river.  Pelicans and river otters are visitors as well as whales out to sea during migration seasons. More recently, bald eagles have made their home nearby.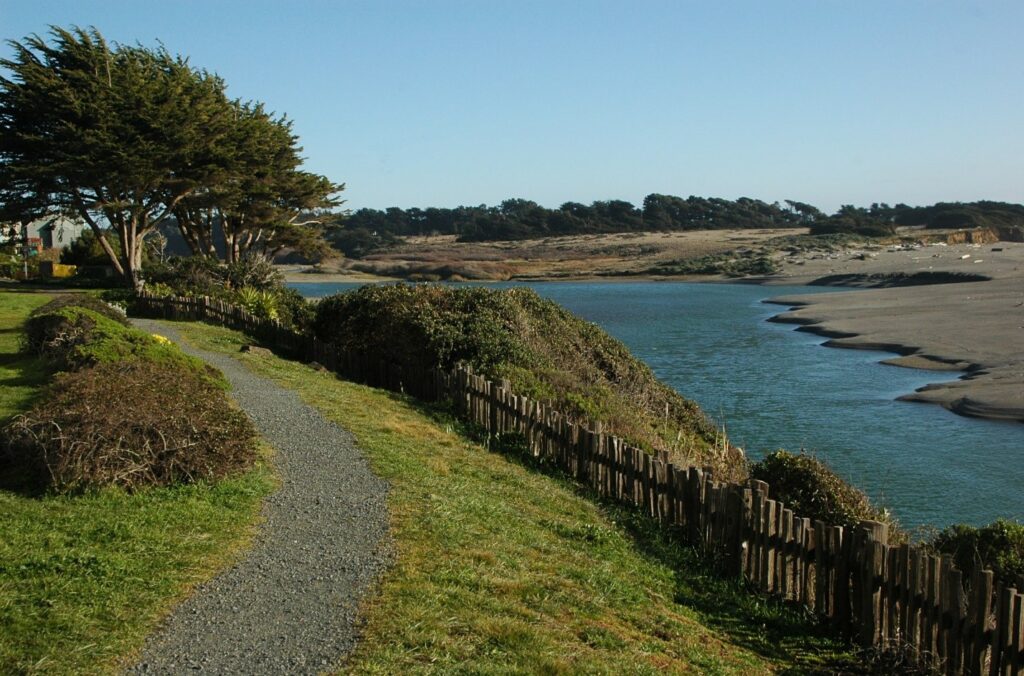 Completed in 2013, the Gualala Bluff Trail provides spectacular estuary and ocean vistas for a half-mile stretch paralleling the bluff edge as it winds west of the Gualala commercial district.
The trail, several foot bridges and overlooks allow opportunities to experience Gualala River Estuary wildlife "up close and personal."
The beautiful trail meanders behind the Breakers Inn, Surf Market, Surf Motel and shops and eateries of downtown Gualala, offering a pleasant stroll away from traffic.
Note- The Gualala Bluff Trail  is a major scenery location for photographers of all abilities.
There is no trailhead parking and there is no access to the river from the bluff edge
Those wishing to cross the river to the sandy point must enter at Gualala Point Regional Park just south of the Gualala River Bridge.
To get there-  From Highway One in the town of Gualala, park near the Surf Motel or other local businesses and walk towards the ocean.  Access for pedestrians is marked at monument signs posted at the Vue Kitchen restaurant and the Surf Motel at Hwy 1 mile markers .6 and .7 just north of the bridge.
Facilities-  Doggie bag dispenser and benches are provided.  There are no bathrooms or garbage cans provided.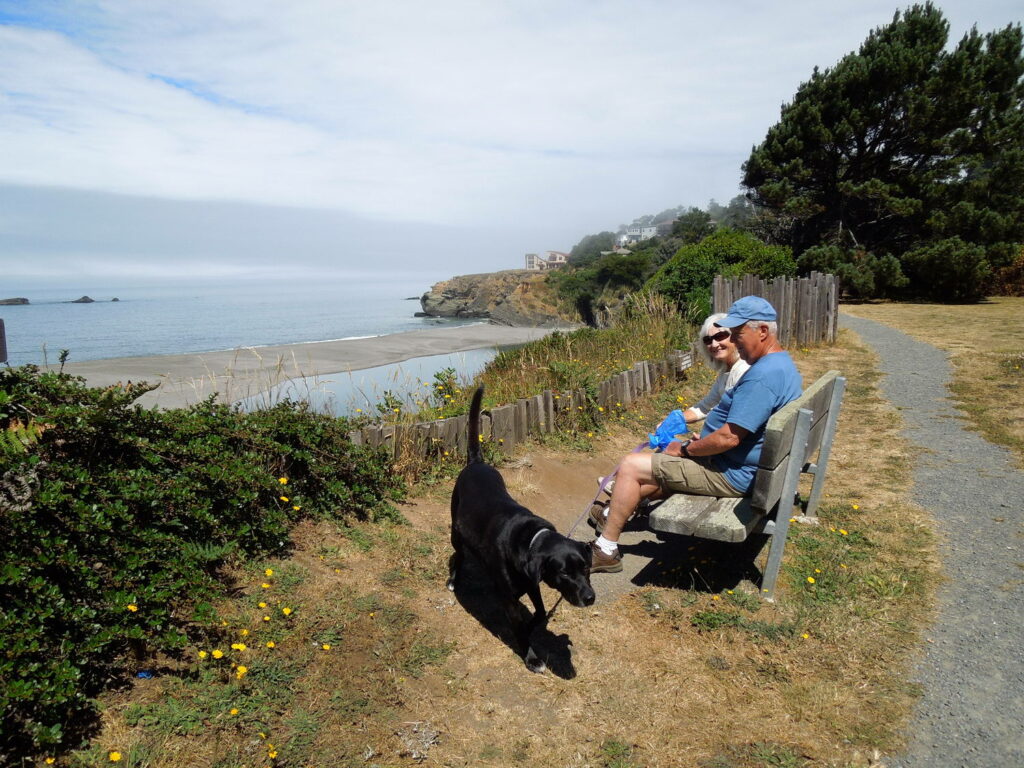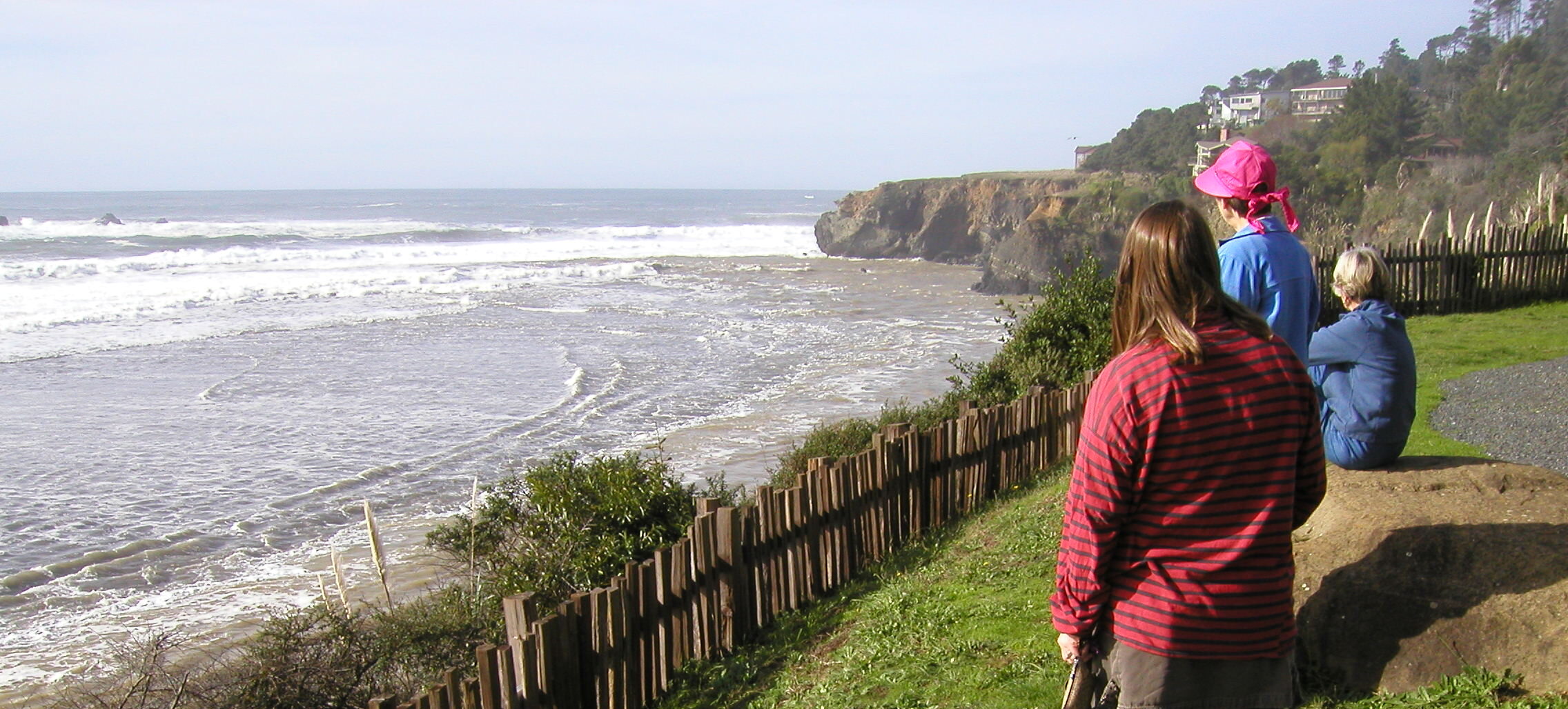 The Gualala Bluff Trail offers dramatic views of the Gualala River after significant rainfall.  The river pushes out the sandbar at the mouth of the lagoon to flow into the sea.  This is a bar-built estuary, which closes and opens depending on the river's flow.  Photo of "River Breaking Through" by Bob Rutemoeller, volunteer RCLC Director.
Redwood Coast Land Conservancy public access protected properties