Your Support Allows us to Preserve Our Beautiful Mendonoma Coast!
Mill Bend Preserve is protected forever because of the determination and commitment of our community. Work has already begun to protect the forest and wetlands, restore the estuary for salmon and other endangered species, and carefully repair the historic cemetery.
A network of trails is being developed at Mill Bend to provide public access and enjoyment of this amazing property. Conservation and more continues at Cooks Beach, Hearn Gulch Preserve, the Gualala Bluff Trail, and other public access sites under our protection.
Redwood Coast Land Conservancy is taking the lead on these undertakings, but our work is just beginning. Your continued support is needed to make sure that we can keep moving forward with the plans our community envisions for Mill Bend and the ongoing preservation of our protected properties.
Please consider making a generous, tax-deductible contribution today! Your support will help ensure the preservation of our natural coastal landscapes and wildlife habitats for generations to come.

RCLC's 2023 Community Report
Learn about RCLC's recent successes, our plans for the future, and how you can help preserve the beautiful Mendonoma Coast.  RCLC is experiencing a growth spurt, despite its 30-year-old age. With Mill Bend Preserve secured in 2021, and the State Coastal...
Gualala Cemetery unveiled
Once buried under heavy brush and fallen tree limbs, Gualala cemetery Mill Bend is being restored by volunteers from Redwood Coast Land Conservancy who are, in the process, unveiling the history of early settlers in Gualala.
News and Articles from Redwood Coast Land Conservancy
What Will RCLC Properties and Gualala
Look Like in The Year 2123?

Have you ever wondered what Mill Bend, Cooks Beach, or Gualala might look like 100 years from now? That question was put to the test with the help of Microsoft Bing Images, an artificial intelligence (AI) engine and online app that creates images from textual descriptions.  For example, when the following text was entered… Read more here…
Editorial

The following editorial by RCLC's Executive Director, Jim Elias, appeared in the May 5, 2023 ICO:

Dear Editor:

Thank you for your April 28 report that the Department of Commerce has recommended $60.3 million in funding for northern California projects dedicated to climate change adaptations and habitat restoration, including toward improving conditions for Mendocino Coast salmonids. This funding compliments Redwood Coast Land Conservancy (RCLC) Mill Bend Preserve projects currently underway, and others set to launch soon.
THE NOVEMBER/FALL NEWSLETTER IS HERE…

In this Issue…


A Bench with a View
Field Trip Report
Upcoming Events
In Praise of Kay
A Note from the Executive Director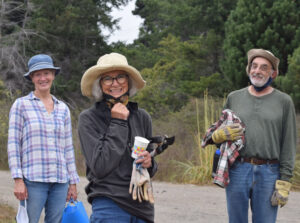 Come join us!

RCLC's community outreach team is looking for volunteers to engage with the larger community and other public and non-profit organizations. Activities include all aspects of community engagement activities, both virtual and in-person, including the following…
Click here to read more…
RCLC Volunteers have transformed this nearly forgotten cemetery into a beautiful place to celebrate local history. Read about restoration efforts and histories of the families laid to rest at this location.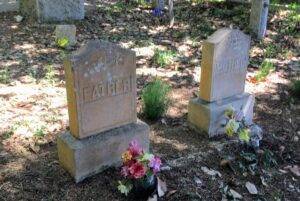 This partnership project aims to involve a broad spectrum of Mendonoma residents including students, teachers, and members of community organizations.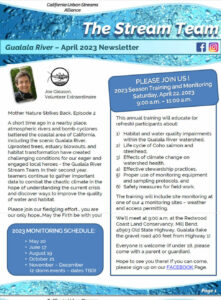 RCLC is in need of a variety of tools and equipment to help us succeed in our work. Maybe you have these items gathering dust in your shed. Please consider donating your tools or funds to purchase new equipment.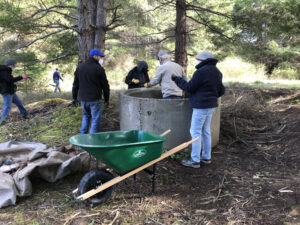 It's not often that a land trust gets to help an iconic species.  The Redwood Coast Land Conservancy (RCLC) is preparing for that special opportunity as it completes the purchase of Mill Bend.  The restoration of Coho salmon to the Gualala River is on the agenda.
Dan Wilson, NOAA National Marine Fisheries Service (NMFS) Fisheries Biologist, says salmon are a "keystone species" for this area, and bringing them back is a top priority. A keystone species is defined as one on which other species largely depend.  When a keystone species declines or disappears, as with the salmon in the Gualala River, everything from Orcas and sea lions to birds of prey suffer.
Dan's interest was based on the fact that the Gualala River is a historically important salmonid coastal stream in northern California.  Read more >>
Redwood Coast Land Conservancy (RCLC) covers the coastal region of southern Mendocino County and northern Sonoma County.  It's a place of scenic beauty and unique wildlife.
Several rivers-the Navarro, Garcia, Gualala and Russian- flow through this landscape.  These riparian corridors, home to the endangered Coho salmon and Steelhead trout, provide the precious resource of fresh water.
Forests of pine, fir and redwood extend down to the Pacific Ocean. Wild rhododendrons, azaleas and iris show seasonal displays.  If you're lucky, you might see a river otter, bald eagle or migrating gray whale.
This land contains some of the rarest and varied habitats found on earth. It's part of the California Floristic Province, named by scientists as one of earth's 25 conservation "hot spots."  Read More >>
John Muir, Conservationist, on seeing the Redwood coast in 1897
"The redwood is the glory of the Coast Range. It extends along the western slope… from beyond the Oregon boundary…to the south of Santa Cruz.  Its massive, sustained grandeur and closeness of growth surpasses all the other timber woods of the world.
Trees from ten to fifteen feet in diameter and three hundred feet high are not uncommon, and a few attain a height of …even four hundred feet… while the ground beneath them is a garden of fresh, exuberant ferns, lilies, gaultheria, and rhododendron."
MENDONOMA WEATHER & EMERGENCY ALERT LINKS