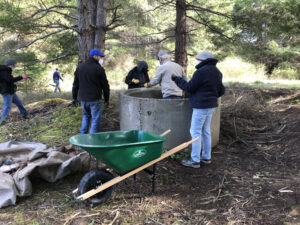 Mill Bend Volunteer Work Party

When: Thursday, December 9, 2021, 9:30am – 11:30am
Where: Upper Mill Bend, 46902 Old State Hwy, Gualala
Click here to register for Mill Bend Volunteer Work Day…
EVENT DETAILS:
Learn to recognize Coastal invasive weed species and the preferred timing & methods for their removal.
Help clear a trail of invasive weeds: removing seedlings plus mature plants of French Broom, Vinca, Jubata grass and other noxious weeds. Some heavy tools provided.
Meet at upper Mill Bend, 46902 Old Stage Rd, Gualala (1st driveway east of Hwy 1).
Everyone welcome but no dogs please.
And by the way we are also seeking donations of new or used tools & supplies, so if you are not able to participate in a work party, perhaps you could help with a donation. Click here to see the wish-list on our website…