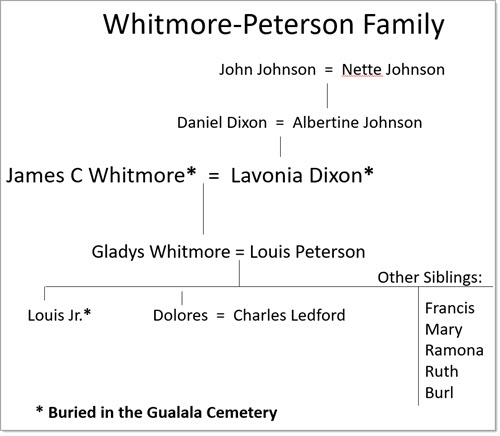 WHITMORE FAMILY NARRATIVE
Members of the Whitmore family interred at the Gualala Cemetery include James Charles Whitmore (1858-1942) and his wife Lavonia Dixon Whitmore (1875-1928), along with their infant grandson Louis Walter Peterson, Jr. (1927-1927). All three were reportedly buried in the family plot, the onsite location of which lacked historic grave markers but has been identified by a descendant.
James Whitmore was born 21 January 1858 in Ontario, Canada. A review of Census Records and various documents created during James Whitmore's lifetime indicate that he immigrated from Nova Scotia sometime between 1882-1888. As border crossing records between the United States and Canada were not kept by the United States government until 1895, and the Canadian government did not report departing citizens until 1906, a record of immigration for James Whitmore likely does not exist. Family members recall James's account that he hopped a schooner in Canada that took him to Cuffy's Cove on the northern California coast. No naturalization papers have been found that would help in determining his immigration date. He primarily worked as a logger up and down the coast, moving where there was work.
Lavonia Dixon was born around 1875 in Point Arena, the youngest of six children. Her parents followed her grandparents John and Nettie Johnson in migrating to the coast from the mining town of Bingham Canyon, Salt Lake County, Utah. Like many of the individuals and families buried in the Gualala Cemetery, Lavonia's family brought a colorful story of their immigration with them to the coast. Her mother, Albertine Johnson, was born in Norway on 26 January 1854 to parents who were "theatrical," and couldn't keep her. She was adopted by the Johnson's and came with them to America when she was 8 years old. Their trip took six months in an old sailing vessel. The family came across country in 1861 to Bingham Canyon where Albertine met and married Daniel Dixon, a miner from Missouri, at the age of sixteen.
Bingham Canyon was settled in 1848 by Mormon pioneers Sanford and Thomas Bingham, who settled the canyon to herd cattle. The brothers discovered gold and silver in the fall of 1863, and typical of mining town starts, prospectors flooded in. By 1868 there were 100 people living in the canyon, by 1880 a population of 1,022 had settled. At the height of its boom, Bingham Canyon was home to over 15,000. Daniel Dixon and Albertine Johnson had six children, the first two (John and Daniel) born in Bingham Canyon, and the last four (Benjamin, Ida Mae, Harvey, and Lavonia) arriving after the family's move to Point Arena. Daniel Dixon worked as the Superintendent of the Wharf in Point Arena, and John Johnson was the town's shoemaker.
James Whitmore and Lavonia Dixon were married in Point Arena at the home of her parents, Daniel Dixon and Albertine Johnson. Their only child, Gladys Whitmore, was born at the wharf in Point Arena prior to their move to Salt Point, where James worked as a tie-maker and Lavonia as a cook in the tie-camp. Their household there was large. In addition to their daughter Gladys, it included the recently widowed Mary Peterson and her three children (Louis, Elizabeth, and Annie) and eight other boarders. The Whitmores later migrated north, living at Del Mar (present day Sea Ranch), then to Gualala, and eventually back to Point Arena, where James worked as a lumber grader in a local mill.
The Whitmore's daughter Gladys married Louis Peterson in San Francisco on 28 November 1919, and the couple made their home in Gualala. One of their children, Louis Walter Peterson, Jr. died at birth (18 September 1927), and is buried in the Gualala Cemetery with his grandparents. Gladys's mother Lavonia died in 1928. Her father James died many years later at his daughter Gladys's Point Arena home in 1942.
Research compiled by Kelly S. Richardson, APR, AG. Anchored Genealogy
Additional information provided by Whitmore descendants Tracy and Lindsey DuPont