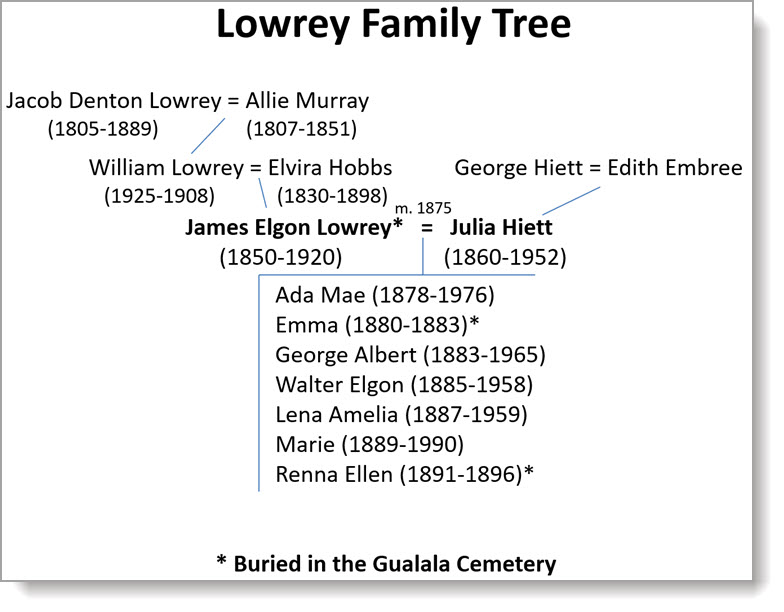 LOWREY FAMILY NARRATIVE
James Elgon Lowrey was born right after the start of the California Gold Rush, on 20 February 1850, to William Lowrey and Elvira Hobbs, in Cass County, Missouri. There were nineteen people living in the household including his grandparents, parents and older sister Christina, aunts, uncles, and cousins. At the time James was born, his father, William; and his grandfather, Jacob (a lieutenant in the Black Hawk Indian War and the Mexican War); along with James' uncles, George and James Shuster had already taken off for the gold fields of California. The elder Lowrey's worked as merchants in Canyon Creek, El Dorado County. By 1852 they had amassed enough money to head back to Missouri and for the rest of the Lowrey family.
When James was just two years old, the "Lowrey Train" headed west. The family left Missouri around the end of March 1852. In May, the Lowrey's met up with the company of M'Clung, Willis, Willis, and Purdy. An entry in Zara M'Clung's diary from that day tells that the M'Clung company had crossed the Platte River, and was camped along Buffalo Creek, enjoying a day of rest, when the "Lowrey Train" arrived at their campsite. The Lowrey's requested to travel together and offered milk to help drive their cattle. The guide the Lowrey's had hired left a short time after that, taking a better offer from another train. The diary details that the trip was very smooth, and the Lowery clan did most of the hunting for the group, shooting buffalo, elk, and deer to keep the families sustained. The train arrived in Volcano, a bustling gold town in Amador County on 8 August. Their stay in gold country was short, and the greater Lowrey family spread out throughout Sonoma and Mendocino counties upon leaving the gold fields.
By 1860, when James was ten years old, his parents, William, and Elvira, and six of his siblings were living at Smith's Ranch, a community established by Captain Stephen Smith on the Rancho Bodega land grant. James' father, William, was able to settle there as a farmer, likely growing potatoes, wheat, barley, and oats, in return sharing the profits he made with Captain Smith. When Captain Smith died in 1855, his wife remarried, and the rancho became very mismanaged. In 1859, there was an attempt to oust the Lowrey family and the other tenants and squatters that were living there. A militia of forty men was hired from San Francisco, who met over 200 settlers armed with farm tools and shot guns. The event is recorded in history as the Bodega War.
James' parents purchased their property from the Smith family legally prior to 1860. The property was known to have been located between Thurston and Tanner Creeks. By 1870, the property was sold, and the Lowrey family had relocated, renting property in the Bloomfield, Freestone township, in the Bodega Bay vicinity.
As James reached working age, he along with his brothers, worked as teamsters. James' grandparents, Jacob Lowrey and Allie Murray, occupied and purchased property adjacent to property that George Hiett and his wife, Edith Embree, had purchased at Plantation, just east of Sea View Road.
James married the Hiett's daughter, Julia Ann, on 5 April 1875. Like the Lowrey family, the Hiett's had migrated over the California Trail. Settling first in the early 1860's in Petaluma, and then migrating to the coast. James' parents, along with James and Julia moved to the Ornbaun Valley in Yorkville. Their oldest child, Ada Mae, was born in Ornbaun Valley in 1878.
In 1880, James' second daughter, Emma, was born in Annapolis. In 1882, James purchased property along Rockpile Creek east of Gualala. The following year, his son was born in a "logging camp" at Rockpile. By 1885, the Lowreys moved to the Log Cabin Ranch at Gualala. Their four youngest children, Walter, Marie, Lena, and Renna were born here. James presumably was working in the timber industry, and grew an orchard on his property, selling fruits and vegetables to the mill workers.
During this time and up until 1908, the greater Lowrey family (James' parents, brothers, and his wife Julia), began purchasing property at what is known as "Lowrey Opening." The property lied east of Mill Bend, and collectively the family owned almost 1,000 acres, most of it in adjacent parcels.
After the mill burned in 1906, James and Julia moved to Healdsburg. They had previously purchased a home in West Dry Creek valley, along what was known as Healdsburg Road. It appears that James couldn't keep himself from the coast, and in 1908, leased 220 acres of land that spanned both Sonoma and Mendocino counties from the Empire Redwood Company (ERC). The lease included the "buildings and orchards" that were existing on the property. He was to pay ERC $100 annually for the lease, $50 in gold coin and $50 in labor, by way of improvements and maintenance to the property including "cutting brush and building fences".
On 13 July 1920, James died at home in Healdsburg after suffering a long illness and heart trouble. He had a stroke the winter before and had never fully recovered. He was buried in the Gualala Cemetery two days later. James' wife Julia remained in Healdsburg and later moved to Petaluma with her daughter. She died after reaching her 92nd birthday, on 13 February 1952. Julia is buried at the Cypress Hill Memorial Park in Petaluma.
Two of the Lowrey children, Emma, and Renna, both died at young ages, and were buried in the Gualala Cemetery. One of these two children died while at home with Julia. The child pulled a pot of boiling water off the stove and spilled it all over herself. James was gone working, so Julia saddled up her horse and bundled up her daughter, riding to the hospital in Healdsburg, the child did not make it.
Children of James and Julia Lowrey:
Ada Mae Lowrey was born 20 February 1878 in Ornbaun Valley, Yorkville, Mendocino County, California, she married Ellis Merritt French of San Bernadino, California. She died 2 January 1976 and is buried at Cypress Hill Memorial Park in Petaluma, California.
Emma Lowrey, born on 7 September 1880 in Annapolis, Sonoma County, California. She died in Gualala on 23 August 1883.
George Albert Lowrey, born on 17 January 1883 at a logging camp on Rockpile, Healdsburg, Sonoma County, California. He married Lillian E Patton of Healdsburg, California. George died 12 June 1955 in Santa Rosa, California.
Walter Elgon Lowrey, born on 29 January 1885 in Gualala, Mendocino County, California. He married Charlotte Gordon. He died 1 September 1958. He is buried at the Oak Mound Cemetery in Healdsburg.
Lena Amelia Lowrey, born on 9 January 1887 at the Poggi Place (home of Frank and Nancy Poggi) in Gualala, Mendocino County. She married Theo Jensen of Manchester, California on 9 January 1887. She died on 26 August 1959 in Petaluma, California. She is buried at Cypress Hill Memorial Park.
Marie Lowrey, born on 19 March 1889 in Gualala, Mendocino County, California. She married James Hayes. She died on 28 October 1990 in Napa, Napa County, California. She is buried at Cypress Hill Memorial Park.
Renna Ellen Lowrey, born on 15 May 1891 in Gualala, Mendocino County, California. She died on 10 February 1896, also in Gualala. She is buried at the Gualala Cemetery.
Research by:
Kelly Richardson, Anchored Genealogy
Contributions by:
Mack Ford, descendant of James Lowrey