In this Issue…
_______________________________
RCLC President's Message
_______________________________
Water Conservation for Trees Planted
at Cooks Beach
_______________________________
Hearn Gulch Preserve:
Protected for All
______________________________
Featured Volunteer:
Mike Spurlock
_______________________________
A Little History:
Dog Hole Ports of Mendonoma
______________________________
New Program to Steward
the Gualala River
______________________________
Our Wish List:
Equipment Needs
______________________________
Coming soon…. The goats are BACK!
Photos by Jim Nybakken and Susan Moreschi

Our Wealth of Coastal Access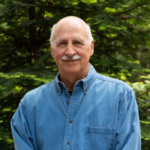 RCLC Board President John Walton
Mendonoma residents and visitors are fortunate to have access to some of the most spectacular stretches of California coastline. With your support, RCLC owns and stewards access to three gems that will be highlighted in our newsletters.
But did you know that alliances have formed among regional conservation organizations to leverage resources to acquire and maintain public access to environmentally sensitive lands? For example, Mendocino Land Trust, a large, well-staffed land trust, was instrumental early on in helping RCLC acquire the Mill Bend Preserve.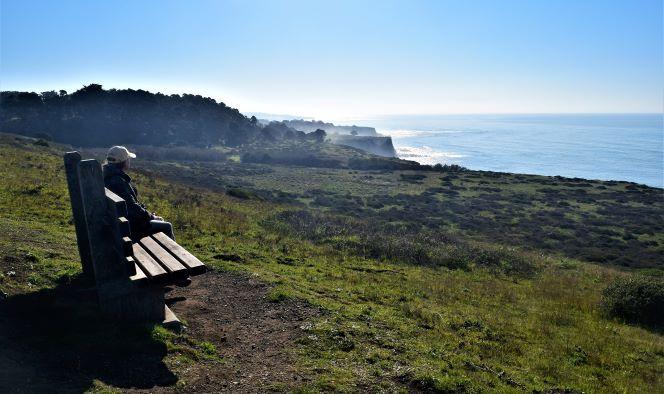 In 2013, Mendocino Land Trust (MLT) acquired and now maintains Pelican Bluffs, a favorite hiking spot for locals. But the geographic distance between MLT's home in Fort Bragg and the south coast presents logistical challenges. Pelican Bluffs is a prime example of how partnering, along with the strong spirit of volunteerism in our community, enabled RCLC to offer MLT assistance to maintain this local treasure. RCLC reached out to the community seeking someone to visit Pelican Bluffs regularly and report back to MLT regarding any maintenance needs that they spot. Thanks to Jeff and Lena of Point Arena who stepped up to fill this role.
Working together, we can all achieve more!
Sincerely,
John Walton
RCLC Board President
Water Conservation for Trees Planted at Cooks Beach
Redwood Coast Land Conservancy recently planted ten trees along the lower trail to Cooks Beach to replace ten trees that died from pine beetle infestation. The dead trees were removed in 2019. The newly planted trees, donated by Trish Miller and Brent Klopfer, consist of five Douglas fir and five Bishop pine.
The trees are from our donors' property. We dug up these trees and potted them last October, and Joel Chaban cared for them over the winter. In a meeting with CalTrans botanists who oversee their Bishop Pine Mitigation program, they suggested that the trees not be planted until February to give them a chance to settle in.
The challenge in this age of drought is how to best plant the trees to conserve water – especially since the new trees at Cooks Beach require watering by hand. We thought we would share with you our methods as you consider your own plantings.
To conserve water and to better protect and keep the newly planted trees hydrated, the new trees are enclosed with wire fencing. Burlap is tied around the bottom 18 inches of fencing to protect the trees from wind damage. The burlap also provides one more important defensive feature: because wind is such a major factor of water evaporation in soil, the burlap blocks the wind and helps the new trees retain water during the dry season
To prevent water run-off and to better assure that water gets to the tree roots, the trees are planted with a shallow basin around the tree trunk. In addition, a watering tube, a short piece of four-inch flex hose, is inserted on the uphill side of the hole. The bottom of the tube is placed underground near the tree roots before filling the hole with soil, and the top of the tube sticks out of the ground. The tube is filled with gravel. When watering during dry season, each tree gets two gallons of water twice a month: one gallon is poured into the basin surrounding the trunk, and one gallon is poured down the watering tube. Finally, the trees are heavily mulched with wood chips to help the soil retain water.
We hope you enjoy watching these trees grow as you visit Cooks Beach, and if you do some planting of your own, these tips may be of use.
Cooks Beach is located about three miles north of Gualala. Turn west off Highway 1 at County Road CR526 at mile marker 3.14 and drive a short distance where you can park and walk down the Bonham Trail to the beach.
Text by Joel Chaban, Photos by Deanna Boettcher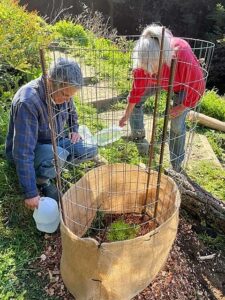 Hearn Gulch Preserve: Protected for All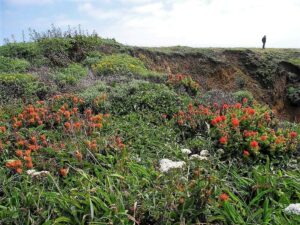 Did you know that Hearn Gulch, RCLC's first purchased conservation property (back in 2001 with help from the State Coastal Conservancy), is part of a statewide network safeguarding California's coastal resources?
Besides its dramatic coastal bluff, panoramic views (whale watching, anyone?), sea stacks with nesting seabirds, and a picture-perfect pocket beach, it is also part of the Saunders Reef State Marine Conservation Area (SMCA), adopted by the California Department of Fish and Game in 2009. SMCAs are part of a statewide network of Marine Protected Areas (MPAs), conserving marine habitats and diversity and allowing marine life to thrive. So, enjoy the wild beauty of Hearn Gulch, listen to the oystercatchers, experience the thunder of the sea tunnel's "blow hole". . .but don't fish from shore!
Now about that bluff… Hearn Gulch Preserve seems like it's always in motion. The bluff tops are windy, rippling the grasses and seasonal flowers. This spring, there have been lupine, seaside daisies, yarrow, paintbrush, wild strawberry, and more.
Hearn Gulch Preserve can be described as a beautiful percussion of sea, land and sky. Come visit! Hearn Gulch is 15 miles north of Gualala, located at mile marker 10.
Text by Trish Miller, photos by Mary Sue Ittner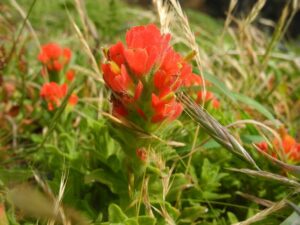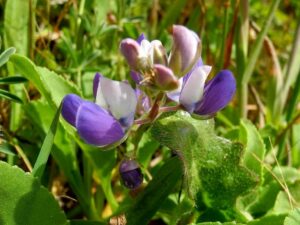 Indian Paintbrush                                                             Lupine
Featured Volunteer: Mike Spurlock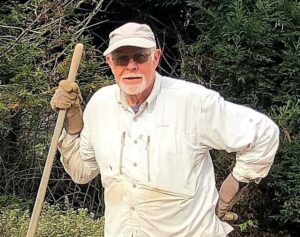 Mike Spurlock is a longtime volunteer at Cooks Beach, doing a wide variety of tasks from watering fledgling plants to digging stairs to hauling rocks!
What brought you to the North Coast?
Our family purchased several acres of land and a cabin back in the 1970s, so we have been here for many, many years. Our whole extended family has enjoyed this area, coming up periodically.
Why are you giving your time to RCLC?
As I spent my years here, I began to be interested in what RCLC does to preserve the land for the future. It was through RCLC that I learned about Cooks Beach, and decided that I would join the volunteers who focus on this area.
What are a few of your favorite things to do in your free time?
My main hobby is fly fishing. I travel all over the world to experience the best fly fishing spots.
Anything else you want us to know?
I continue to have a lot of family ties to this area. My mother, Doris Spurlock, lived in Gualala for many years and was a dedicated volunteer at PayNTake. My brother has a home here now. My sister Susan taught school in Point Arena. The roots run deep.
Dog Hole Ports of Mendonoma

Let's dive into some history of the area:
The lumber boom of the second half of the 19th century and early 20th century was driven by numerous factors such as, the Gold Rush, the building of San Francisco and its subsequent multiple conflagrations requiring rebuilding, and expansion of the railroads. The boom had a positive effect on the Mendonoma Coast where the timber was abundant. However, distance and lack of a transportation infrastructure had to be overcome. This led to the creation of a shipping industry unique to the area which lacked large, deep, safe ports to dock ships. The coast's coves are narrow, shallow and extremely dangerous. They became known as dog holes because it was said they only had enough room for a dog to turn around in.
To handle the dog hole ports ships called schooners were developed, generally with two masts, faster and easier to handle than larger ships. They were shorter in length, wider, with shallower hulls and usually under 200 tons. Another problem with the dog hole ports was how to load the lumber. Piers were generally not feasible because of the shallow depth and reefs, swells and hidden rocks. Therefore, various types of "landings" were developed. There were two main methods of loading and unloading
One was the slide or apron chute composed of an "A" frame supporting a wooden trough with cables. A system of pulleys and wires allowed the chute to be raised and lowered to allow gravity to move the cargo on to a waiting ship. The length of the chute depended on how far away from shore a schooner could safely anchor to be loaded. The chute had a movable plank at the end which was raised or lowered by a man using a lever either on the ship or on the chute. It was called a clapper. The picture shows such a chute at Bourn's Landing. Notice the man at the end of the chute in the foreground. Bourn's Landing was the busiest landing along the Mendonoma Coast. The two early mills located at Lower Mill Bend used Bourn's for their shipping. They built a train from the mill to the landing two miles north.
Another loading method was the wire chute. The second picture shows it being used at the Del Mar Mill Landing. Here a wire cable was run from shore to some type of anchorage beyond where the ship was moored or to the ship itself. Cargo was strapped to the wire and the weight of the load would cause it to descend toward the ship. A braking mechanism would control the speed of the descent. Once unloaded, a system of rope/wires and pulleys would return the sling to shore. The Del Mar Mill appears to have used steam power to maneuver the load to the waiting ship. The ship would have been attached to an anchored buoy to keep it stable. In the Bourn's Landing picture notice the two cables, one probably heading to a buoy and one to shore.
The Del Mar Mill was located on the north end of today's Sea Ranch about a mile south of Gualala Point Park.
Text and photos provided by Harry Lindstrom
New Program to Steward the River!

Gualala River Stream Team Stewardship Project
Thanks to a grant from the California Coastal Commission awarded to the CA Urban Streams Alliance – The Stream Team, we are partnering, along with Friends of the Gualala River (FOGR), in a stewardship project to engage volunteers in the monitoring of the Gualala River watershed! Stay tuned for more information about this project. We will be looking for volunteers to participate in this community effort on an ongoing basis. Join us!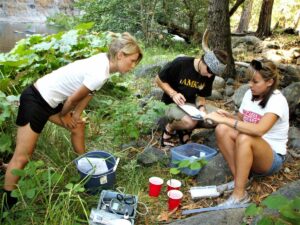 Plan to meet at Upper Mill Bend on Earth Day Weekend (Sunday afternoon, April 24). We'll provide:
an opportunity to meet project partners
an overview of the stewardship project (citizen science!)
hands-on activities such as testing Gualala River water quality and making a rain gauge
youth activities, tours, and more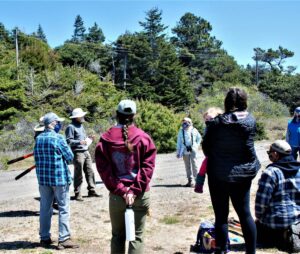 JOIN US!
Please feel free to join us weekly at Mill Bend! Help clear trails and improve wildlife habitat. Tuesday afternoons 1:00pm – 3:00pm at 46902 Old State Hwy, Gualala. Or join a weekend work party on the third Saturday of each month. Contact RCLC's volunteers director for details at volunteers@rclc.org.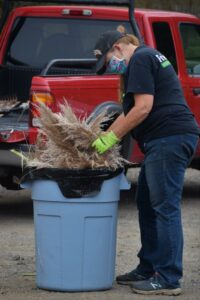 Can you help by providing any of these items or donating funds to help purchase?
Redwood Coast Land Conservancy is in need of the following items. (Many thanks for the items recently donated!) If you have something to donate, please contact us at the information below. Thank you!
Our most pressing need right now is a chipper or shredder! We have piles and piles of invasive plants to be shredded.
Tools needed
Shovels/spades, spading/digging forks
Loppers, clippers and pruning shears
Matlocks, post hole digger and digging bar
Carpentry tools, workbench and sawhorses
Garbage cans
Weed Whacker (battery operated)
Utility Vehicle/Pickup/4 WD Gator
Burn cage
Other items needed
Barbeque grill (propane)
Picnic tables
Rainwater collection and storage system
If you would like to contribute toward a purchase of one of these items or have an item to donate to RCLC, please contact us at (707) 884-4426 or by email at rclc@rclc.org and leave a message. If you come to a work party at Mill Bend, feel free to bring your donated item.
Thank you for sharing your excess tools and equipment to help us maintain our conservation properties!