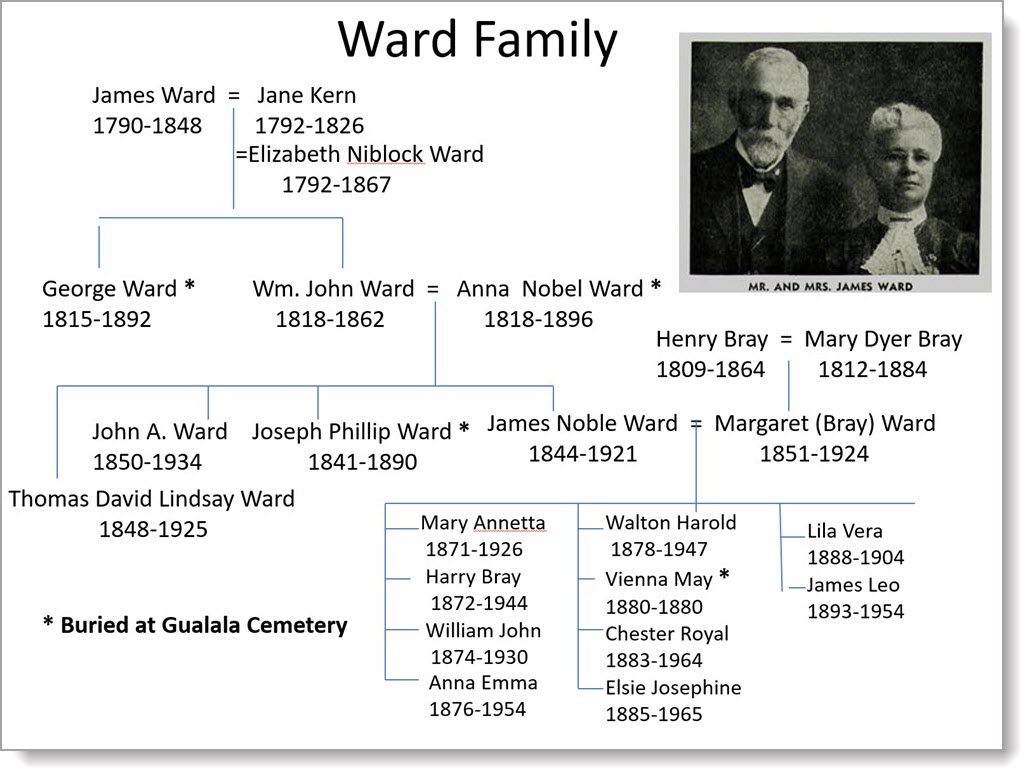 WARD FAMILY NARRATIVE*
The Ward family originated in Belfast, Ireland, descending from James Ward (1790-1848) who, with his first wife Jane Kern (1792-1826), had two sons, George (1815-1892) and William John (1818-1862). George apparently remained a bachelor his entire life, while William John married Anna Nobel Ward (1818-1896) in 1839 and had four sons, Joseph Phillip (1841-1890), James Noble (1844-1921), Thomas David Lindsay (1848-1925), and John A. Ward (1850-1934). George, along with brother William John, his wife Anna and family, emigrated to the United States around 1850. Notably, the youngest of the Ward children, John A., was born that year in Brooklyn, so that may mark their entry into this country.
The Wards settled in the Chicago area, and became farmers. William John, husband of Anna, died of injuries sustained in a threshing machine accident there in 1862. Their son James Noble Ward met and married Margaret Bray (1851-1924) in 1869. Brother Thomas David Lindsay Ward also married into the Bray family (twice), and apparently remained in the Chicago area until his death in 1925. James and Margaret Ward, however, along with his uncle George, mother Anna, and brothers Joseph Phillip and John A., left Illinois in the 1870s for northern California to ranch and to work in the logging industry.
After arriving on the Mendonoma Coast, the Wards settled in Gualala where James became a steam engineer and master mechanic at the Gualala Mill. James was apparently also an ordained minister, and he and Margaret were noted as avid prohibitionists who traveled to preach at various temperance meetings. The Ward brothers also purchased a large ranch on Crispen Road north of Manchester, which they expanded and actively operated during the 1880s and 1890s, and which remained in the family until it was sold by the last surviving sibling, John A., to the Scaramellas in 1926. The Ward family plot at the Gualala Cemetery was established by James and Margaret Ward, who had 10 children. One child, Vienna May, died in 1880 at the age of 7 months, and was the first to be buried in the family plot. Also buried there are James's brother Joseph Phillip, who reportedly died of "suffocation" in a Fort Bragg agricultural field in 1890; his uncle George, who died in 1892; and his mother Anna, who died in 1896.
Shortly after Anna's death, around 1897-98, James and Margaret, along with their surviving nine children, left Gualala and moved north to pursue opportunities offered by the town of Crescent City. There they joined Margaret's brother, Richard Bray who, after living with them briefly in Gualala, had relocated to Crescent City in 1881 and established himself as chief engineer at the area's largest mill. James and Margaret spent the remainder of their lives in Crescent City, as did several of their children, and are buried there.
*Special thanks to David Berry for providing information and photographs contained in this narrative about his great, great aunt, Margaret Bray Ward, and the Ward family.