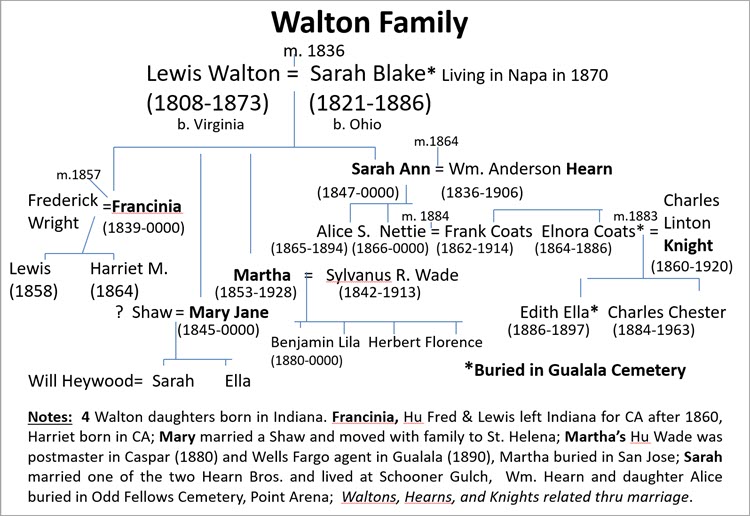 WALTON FAMILY NARRATIVE*

Sarah Blake Walton was born in Ohio in 1821. At the age of 15 she married Lewis Walton, an Indiana farmer 13 years her senior. Together they had four daughters, Francinia (1839), Mary Jane (1845), Sarah Ann (1847), and Martha (1853). Members of the Walton family moved from Indiana to California sometime after 1860, settling initially in the Napa area.
Daughter Francinia was accompanied on the journey by her husband Frederick Wright and son Lewis, and a second child, Harriet, was born after their arrival in California. Sarah Walton's daughter Mary Jane married into the Shaw family and moved to St. Helena, where she had two children, Sarah and Ella. Sarah Walton's daughter Martha married Sylvanus R. Wade and had four children, Benjamin, Lila, Herbert, and Florence. Wade served as postmaster in Caspar in 1880, and as a Wells Fargo agent in Gualala in 1890. And her fourth daughter, Sarah Ann, married prominent citizen William A. Hearn and lived with their two daughters, Alice and Nettie, at Schooner Gulch.
Sarah Blake Walton died in Gualala in 1886, just shy of her 65th birthday, and was buried in the Gualala Cemetery. Of her large extended family, she is the only member of record to be interred there. Notably, however, the Waltons are related through marriage to another family represented at the Cemetery, the Knights. Sarah Walton's granddaughter, Nettie Hearn, married Frank Coats, whose sister, Elnora Coats Knight and her daughter Edith Ella Knight, are also buried in a family plot there.
*Research compiled by Kelly Richardson, Anchored Genealogy
https://www.anchoredgenealogy.com/gualalacemetery