Above Photo: The access steps to Cooks Beach taken this weekend after the steps and nearby berm were damaged by an unknown motorist.
Published by the Independent Coast Observer, October 29, 2021
Photos by Joel Chaban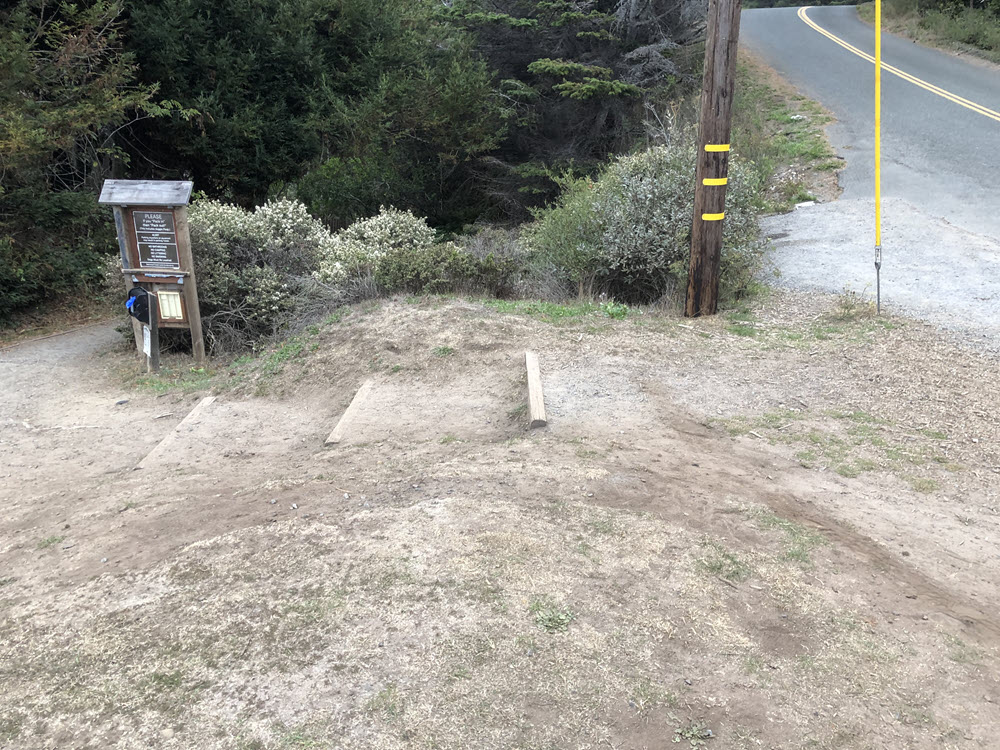 The recent storm is not the only thing causing damage to local beaches. According to Joel Chaban, secretary of Redwood Coast Land Conservancy, it appears a pickup truck drove up and down the bluff top steps used as an entrance to Cooks Beach in the last few days, causing damage to the steps.
In addition, the driver drove up and down the berm adjacent to these stairs, Chaban said.
"This berm, previously eroded by a wedding party event a couple of months ago, now has several long deep gouges on the ocean side of the berm that run in several directions," he explained.
"The earth has also been gouged along both sides of the stairs and on the stairs where it appears the tires were spinning in an attempt to drive up the stairs."
The wedding Chaban described was done without permission from RCLC, Mendocino County or the California Coastal Commission, and had already caused erosion to the berm before the recent vehicle damage.
Currently there is no plan to do any repairs at Cooks beach, said Chaban, who is the project manager for that beach. "I will try to get down there and do some repairs on the stairs and put down some wood chips to protect them from foot traffic," he said, adding that RCLC is in the process of applying for Coastal Commission and County permits to put up bollards to prevent any driving on the bluff top.
However, it will take several months to get the permits, he said.
"I ironically took the 'before' photos a week be fore the latest damage to develop design drawings for the bollards required by the County and Coastal Commission," Chaban added. "In the meantime, the ground is wet and will get wetter! Be thoughtful and careful."
Cooks Beach, just north of Gualala, is one of four properties in Mendonoma stewarded by RCLC. The others include the Gualala Bluff Trail, Hearn Gulch and Mill Bend.