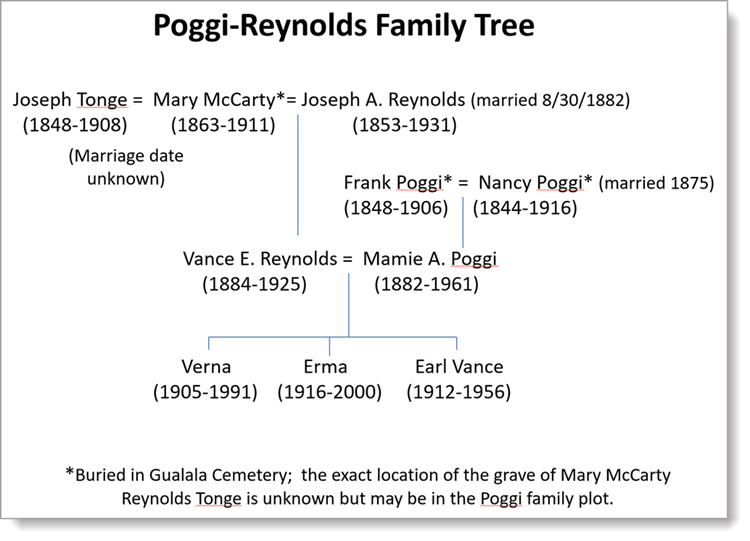 MARY REYNOLDS TONG
Mary Reynolds Tonge was born Mary McCarty around 1864 in Elmira, Solano County, California. She was the daughter of Rev. Alexander Vance McCarty, a renowned Christian preacher from Missouri, and Jane Bounds. The greater McCarty and Bounds families, Oregon pioneers, navigated the Oregon Trail and settled in the Willamette Valley. Alexander traveled throughout Oregon and California preaching, and died in 1868, leaving his wife to raise their daughter Mary and her 13 siblings on the family farm in Elmira.
Mary married Joseph Albert Reynolds on 30 August 1882 in Elmira, California. Joseph was born in Canada in May 1851. He was the son of Laurence and Mary Keon Reynolds, two Irish citizens that emigrated to Canada, and then in 1857 to the United States. The family made the journey from New York to California by water, crossing the isthmus of Panama by mule train. Joseph was raised on the family ranch in Elmira with his 12 siblings. After his marriage he worked for timber companies throughout the North Coast and in Humboldt County, and also sheered sheep in Montana.
Mary and Joseph Reynolds had one son, Vance Earl Reynolds, in 1884, but separated shortly thereafter. Joseph never remarried and died in Woodland, Yolo County, California in 1931. Mary's son Vance married Mamie Poggi in Gualala. They had three children, Verna, Emma, and Earl. Mamie's parents, Frank and Nancy Poggi, are also buried in the Gualala Cemetery (see the Poggi family narrative).
Mary's second husband, Joseph Tonge, emigrated from England with his brother, leaving behind his parents and two siblings. He was a large landowner in Mendocino County, a postmaster in Gualala, and worked along the coast from Stewart's Point to Mendocino. He died in 1908. Although the date of their marriage is uncertain, the 1910 census records show Mary as living with her son, widowed, and as having been married only one year. Mary and Joseph Tonge had no children.
Mary died at the Poggi family ranch in 1911. She was buried in the Gualala Cemetery, but the specific location of her grave site on the property is unknown.