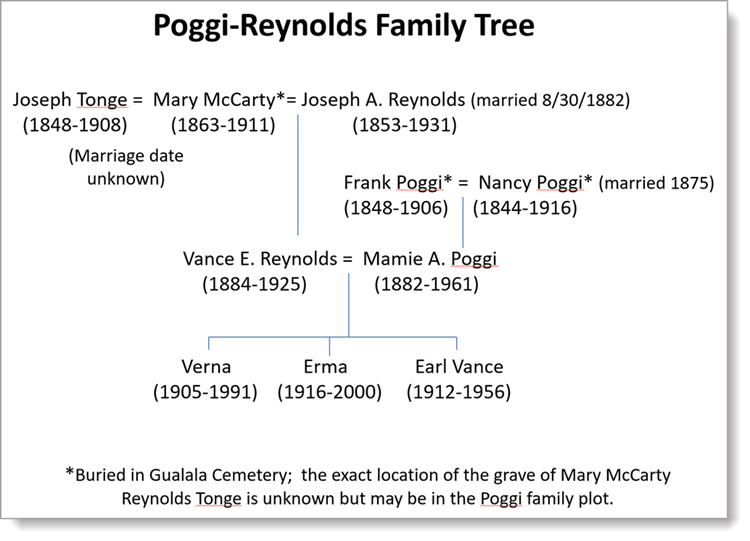 POGGI FAMILY NARRATIVE

The Poggi family plot contains the graves of Frank Poggi (1848-1906) and his wife Nancy Jane Poggi (1844-1916), who is buried beside him. A third family member, Mary McCarty Reynolds Tonge (1864-1911), the mother-in-law of Frank and Nancy's daughter, Mamie Poggi Reynolds, is also known to have been interred at the Gualala Cemetery. Her grave may be located in this plot. The graves of both Nancy Poggi and Mary Tonge are unmarked.
Frank Poggi was born in Italy in 1848, and migrated to the United States in 1861. He is thought to have arrived in Sonoma County, California in 1875 and, according to the US Census, married Nancy that same year. She was 31 or 32 years old at the time. Nancy is thought to have traveled with her family from Illinois to California around 1871, although her personal history prior to her marriage to Frank has not been documented with any certainty.
Frank and Nancy Poggi owned and lived on a farm outside Healdsburg, California, likely in the Dry Creek Valley, in the 1870's and early 1880's. Tax records in 1879 listed the family as owning one cow and two horses, while a 1883 record of the Healdsburg Viticulture Association reported that they were growing 8 acres of old vine "Mission" grapes, a varietal used to make strong wines such as port and sherry. During this period the Poggis also spent some time renovating and living in a house on Hayden Street in Healdsburg which they had inherited from Horatio Hutchings, a friend whom they had cared for prior to his death in 1881. Frank and Nancy lived in the Healdsburg house for most of 1882, but returned to the farm in November of that year after adopting their daughter, Mamie Anita.
At the Hayden Street property, Frank and Nancy Poggi operated a stables, and owned a stallion named General Grant from 1884-1886. General Grant was a cross-bred Clydesdale and Belmont stallion used to sire not only strong work horses, but "roadster" horses which were utilized in competitive racing contests held on ordinary dirt roads. Frank offered stud services at his Hayden Street property, as well as at stables in Windsor and Guerneville.
The earliest reference to the Poggi family living in Gualala was made by a contributor to the Healdsburg Tribune in the Fall of 1896. The Poggis had a ranch on the North Fork of the Gualala River that was a very successful agricultural operation.
Mamie Poggi married Vance Reynolds, a native of Elmira, Solano County, in 1905. He was the son of Joseph Reynolds (1851-1931) and Mary McCarty Reynolds. Vance was employed over the years in the lumber industry in both Mendocino and Humboldt Counties. The couple had three children (Verna, Irma, and Earl).
After the death of her husband, both Nancy Poggi and members of the Reynolds families resided intermittently on the Poggi ranch as well as in the town of Healdsburg. Nancy lived in Healdsburg from 1910 to 1913, reportedly caring for the two children of a widower, Fred Bice. Census records of 1910 indicate that during Nancy's absence, Vance's mother Mary McCarty Reynolds, then a recent widow, had joined her son and Mamie at the Poggi ranch. Sometime in the early 1900s Mary Reynolds had married Joseph Tonge (1848-1908), a large Mendocino property owner and Gualala postmaster, who reportedly died the following year. Mary Reynolds Tonge passed away at the Poggi ranch in 1911. Nancy Poggi is listed as one of the mourners at her funeral.
Nancy Poggi returned to the coast in 1913. She was engaged to James Haney in 1916. Nancy fell ill after returning from a trip with her daughter and son-in-law to Humboldt County, and died unexpectedly at the ranch in April 1916.
*Research compiled by Kelly Richardson, Anchored Genealogy
https://www.anchoredgenealogy.com/gualalacemetery