Holy Goats and Saintly Sheep visit Mill Bend uplands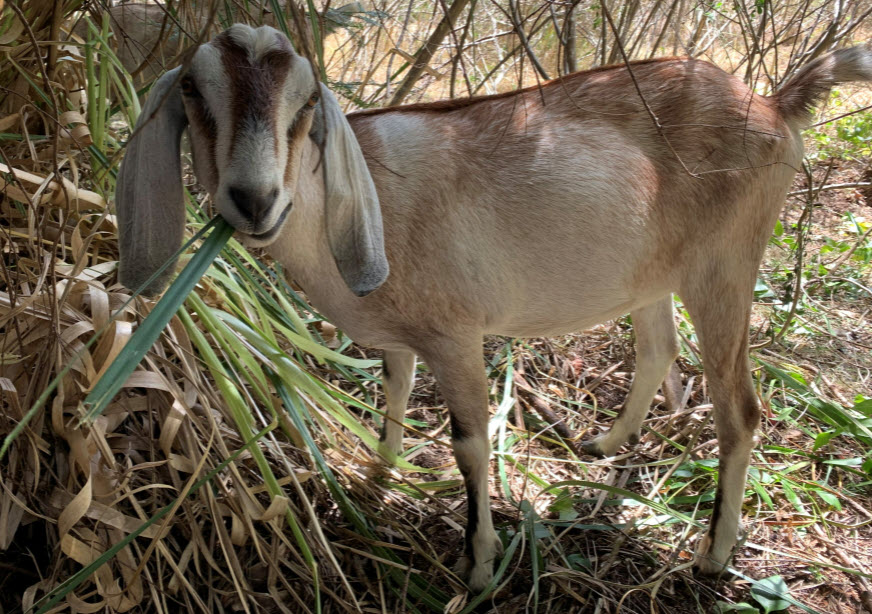 The grazing proposal read, "The Holy Goats and Saintly Sheep: Your fire prevention angels, inviting us to eat brush on the Mill Bend Preserve located just north of the Gualala River."
This animal vegetation management took place in August 2021. The goats are owned by Matthew Davis, who is also the minister at Mendocino Presbyterian Church. The sheep came from Gowan Batist's flock at Fortunate Farms in Caspar, CA. The animals were pastured with two Anatolian shepherd dogs who provided watchful protection.
The pens they were living in got expanded as they thinned the brush. After the animals had grazed all they could reach for the first couple of weeks, volunteers stepped inside the pen to bend the taller plants over so animal mouths could reach the leaves, seeds, and flowers over their heads. Feeding the goats raised smiles for board member Cheryl Harris and other volunteers as goats followed them around like a fan club.
The animals spent three weeks grazing the Mill Bend Preserve uplands. Dave Shpak, RCLC Mill Bend Project Manager, said there were two main goals– to reduce dense stands of invasive plants and reduce wildfire fuel load. "We have a forever problem with invasives," he admitted. Invasive plants such as French broom, jubata grass (pampas grass), fennel, thistle, and Himalayan blackberries all have a widespread presence at the property, crowding out native plants. Fortunately, goats and sheep love to eat those invasive plants and prefer them to natives such as coyote brush.
Shpak was pleased that they thinned 3 to 5 acres of vegetation, clearing up thickets that were formerly too dense to walk through. The animals also ate broom seed pods and jubata plumes, interrupting the seed cycle for those invasives. Shpak summed up, "Grazing is part of a natural approach to invasive control; it's a treatment that's quite effective." The grazing cost about $3,400.
On the human side, the shepherdess/owner of the flock of sheep, Gowan Batist, was glad to return to Mill Bend. She was born and raised in Gualala but eventually moved up the coast to Caspar where she is a partner at Fortunate Farms with her mother Ellen Buechner. Batist said she spent many happy hours roaming Mill Bend while her mother was rehearsing jazz choir at the neighboring Gualala Arts Center.
The Gualala Pioneer Cemetery also sits on Mill Bend uplands, and Gowan Batist's "grandfather's grandfather," Charles Christiansen, is buried there. Batist reflected, "I would say that this project both felt like coming home for me, and like ancestral reparations, and I look forward to seeing the regenerative work being done there blossom into the future."
Mill Bend continues to surprise us as these connections between the land, plants, animals, and people are revealed.
Photos below by Craig Tooley.