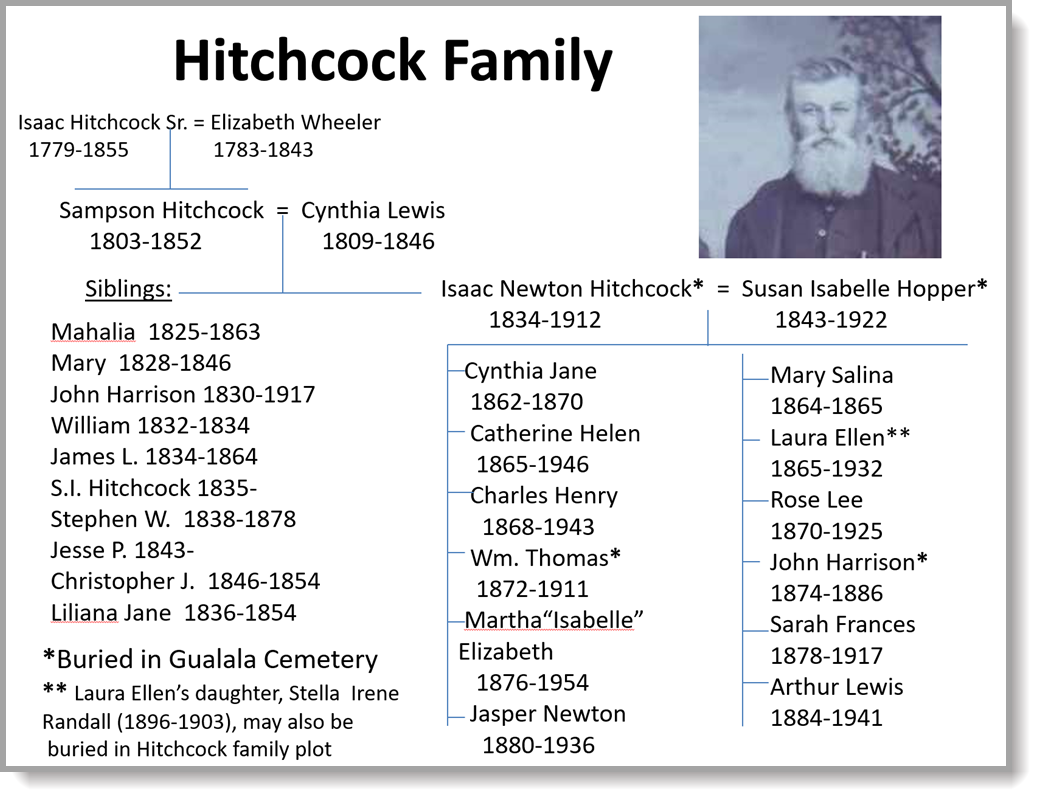 HITCHCOCK FAMILY NARRATIVE*
The Hitchcock family plot is the final resting place for Isaac Newton Hitchcock (1834-1912), his wife Susan Isabelle Hopper Hitchcock (1843-1922), and two of their twelve children, John (1874-1886), and William (1872-1911). According to descendants, a granddaughter, Stella Irene Randall (1896-1903), may also be buried there.
The Hitchcock family played an important role in the settling of California. Isaac Hitchcock Sr. (ca. 1779-1855), a veteran explorer, outdoorsman, trapper, and trader, was a member and co-guide (along with Caleb Greenwood) of the famous 1844 Stephens-Townsend-Murphy Party, the first pioneer wagon train to successfully cross over the Sierra Nevada into California via the Donner Pass. Despite the severe conditions encountered on their six-month journey, Isaac Sr., then 64 years of age, successfully guided his widowed daughter, Elizabeth Hitchcock Patterson, her five children, and others in this fifty-one-member Party to its destination.
Two years later, in 1846, the third son of Isaac Sr., Sampson Hitchcock (1803-1852), followed in his father's footsteps, embarking on a 2000-mile journey from Missouri to California. Accompanying him was his wife Cynthia Lewis Hitchcock (1809-1846), who perished on the trip, and seven children (aged 4 months to 15 years), including young Isaac Newton Hitchcock. At the time of their arrival in what is now Santa Clara County, California was still a Mexican territory in the midst of the Bear Flag Revolt. Sampson, along with his father Isaac Sr., enlisted with the Santa Clara County Volunteers and fought in the Mexican War, settling after the conflict for some years in Santa Cruz. After the discovery of gold, he moved his family to the Stockton area and remarried in 1851. Eight months later, Sampson died at the age of 48.
Isaac Newton Hitchcock had moved from the family home in Santa Cruz to San Joaquin County by 1850. He married Susan Isabelle Hopper in 1858 (he then 24, she 15 1/2), and initially lived and worked on Susan's parent's farm in Cloverdale. They reportedly moved to Point Arena in 1863, and Isaac Newton spent the remainder of his life in various locations on the Mendonoma Coast. Records indicate he engaged in a number of occupations through the years, including mill operator, teamster, farmer, and laborer. Notably, he is credited with hauling the first bricks for construction of the original Point Arena lighthouse in 1869. He died in Gualala in 1912 at the age of 78. The Fort Bragg Advocate obituary memorialized him as "a good husband, father, friend, neighbor, and citizen."
Susan Isabelle Hopper Hitchcock, his wife of 54 years, had migrated to California with her family from Missouri in 1857, settling in Cloverdale. After Isaac Newton's death, she joined the household of their son Charles Henry Hitchcock, his wife and six children, and her youngest son Arthur Lewis Hitchcock. Susan Isabelle died in Greenwood (Elk) in 1922, and was buried next to her husband in the Gualala Cemetery. Her obituary in the Fort Bragg Advocate noted "Mrs. Hitchcock was one of those kind, motherly women, loved and respected, and familiarly known to all along the coast as 'Grandma' Hitchcock. She was the mother of twelve children, seven of whom survive her…"
Isaac Newton and Susan Isabelle were pre-deceased by two of their sons who are also buried in the family plot. Their young son John Harrison Hitchcock passed away in 1886 from an undisclosed illness just two months before his twelfth birthday. Another middle-aged son, William Thomas Hitchcock, succumbed to injuries in 1911 suffered in a rollover stagecoach accident just south of Stewart's Point. William, listed as a master reinsman, was at that time a driver of the stage between Cazadero and Point Arena. He left behind a widow and two young sons residing in Gualala.
A third descendant of Isaac Newton and Susan Isabelle, their 7-year-old granddaughter Stella Irene Randall, daughter of Laura Ellen Hitchcock Randall, died in 1903 and is reported by family members to have also been buried in the Gualala Cemetery family plot. Stella's death notice in the Ukiah Dispatch memorialized her as "a very lovely child, of a mild and gentle character and a general favorite among her friends and companions." No official record of her gravesite has been obtained.
*Special recognition is extended to the late Patricia Ann Hitchcock Hanson and John Thomas Hitchcock, as well as the many Hitchcock family members whose years of research contributed to a large volume of historic documents and stories for this special Hitchcock pioneer family. Living Hitchcock descendants and extended family members have expressed their gratitude that their family, who were laid to rest in Gualala Cemetery long ago, will forever be surrounded by the serenity found there. It is their fervent wish that this family will be remembered – not just that they died – but that they lived.