Hearn Gulch- Drama at the Sea Bluffs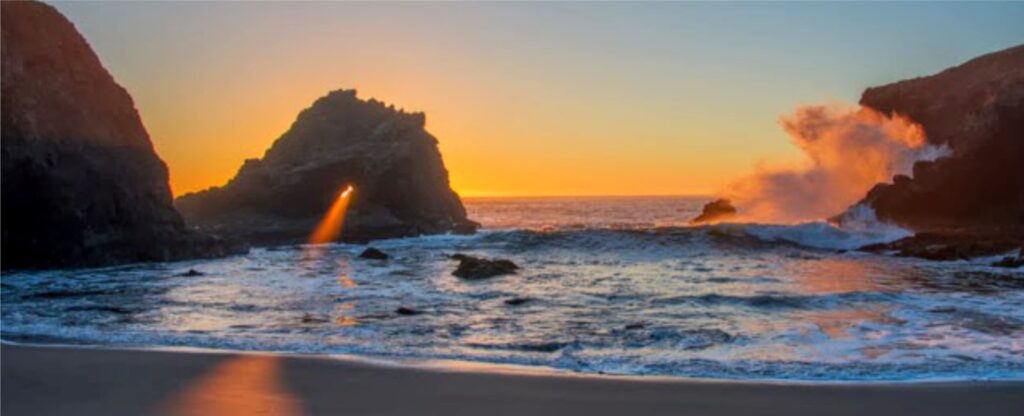 Hearn Gulch Sunset, Photo by Paul Brewer
IT DOESN'T GET MORE DRAMATIC than the bluff vistas, deep cove, thundering blow hole, and rocky sea stacks of Hearn Gulch Preserve.
This little gem of a property has been with RCLC since the first of several parcels was acquired in 2001, with help from the State Coastal Conservancy. It's part of the Saunders Reef State Marine Conservation Area and is a California-protected property where no fishing or removal of plants or natural items are allowed.
Enjoy the pocket beach, accessed down a trail that turns steep at the end (use the ropes to hold on). At the beach level, you'll find fine, light-colored sand, some protection from the wind, and dramatic, rising cliffs on either side. When the tide is right, you can hear the thump of the blow hole.
Hearn Gulch Preserve seems like it's always in motion. The bluff tops are windy, rippling the grasses and seasonal flowers. This spring, there have been lupine, seaside daisies, yarrow, paintbrush, wild strawberry, and more.
View this informative slideshow of flowers seen at Hearn Gulch Preserve, photographed by Mary Sue Ittner, a native plant expert.  https://dkycnps.org/vwtours/hearngulch/hearngulch.html   She serves as the Project Manager for the Gualala Bluff Trail, another RCLC property.
Birds ride the wind over the bluffs, contributing to that impression that Hearn Gulch Preserve is in motion. Watch for oystercatchers, cormorants, pelicans, hawks, ravens, swallows, and the occasional white egret.
When I visited the Preserve with its Project Manager, Trish Miller, in the photo here, we witnessed a small bird drama.  A raven pair glided over the cliff edges, coming close to some oystercatchers, who may have had a nearby nest. The high-pitched protesting voices of the oystercatchers alerted us, followed by two of them chasing one of the ravens. If you spend a little time at this site, you're sure to see some birds in action.
Out at sea, watch for whales during the migration season, when gray whales make their long journey up to the Arctic and back. In late spring, you might see mother and calf pairs, which travel more slowly and closer in to shore. In sunny weather, you might even glimpse seals lounging on rocks at shoreline.
This cove has some history too. The cove and Saunders Landing were a spot for "doghole" schooners to moor and load lumber shipments in the 1800s.
Hearn Gulch Preserve can best be described as "elemental"—a place between sea and sky, washed over by winds and weather. It's a place to make you feel a part of a much bigger world. Come visit.
Facilities   Doggie bags, bathrooms, benches, and garbage cans are not provided.
______________________
How to get there: Hearn Gulch Preserve is located just north of Iversen Road off coastal Hwy. 1 at Mile marker 10.  See this page for more information.