Gualala Pioneer Cemetery Gets a Cleanup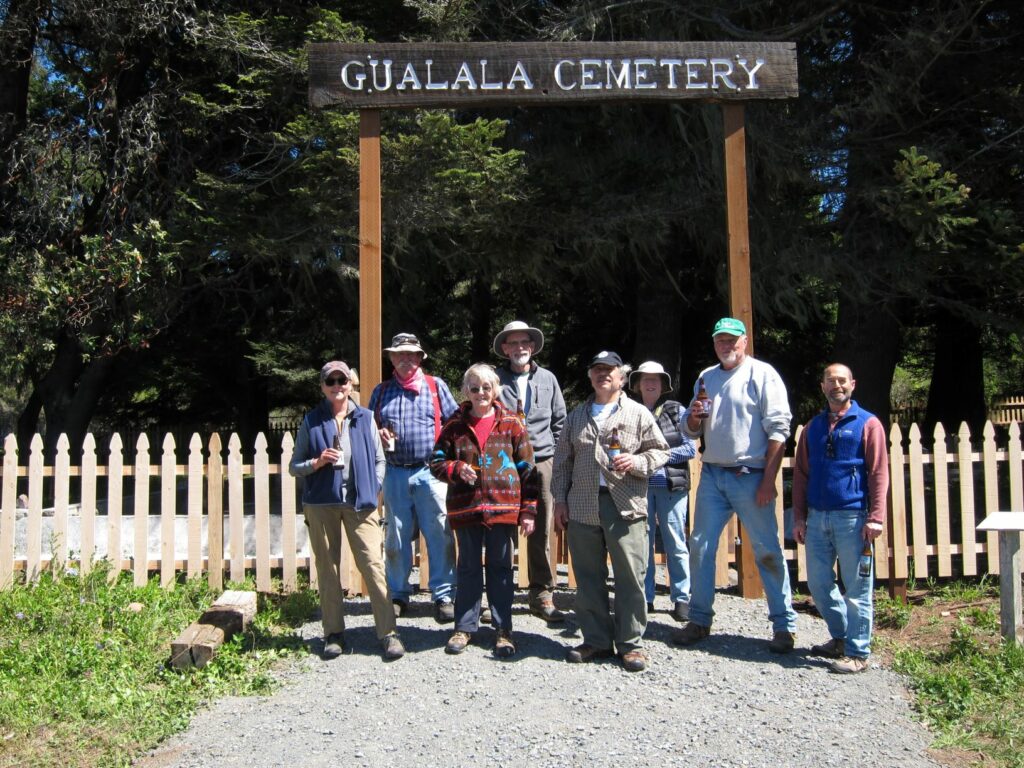 Volunteers celebrate mounting the Gualala Pioneer Cemetery sign, Spring 2021, Photo by Dave Shpak
The Gualala Cemetery was established in the late 1870s on what is now the Mill Bend uplands property on land set aside by Zemri Heywood, owner of the Heywood Lumber Mill.   The site contains 62 recorded burials as well as an unknown number of additional unidentified and unmarked graves.  Documented burials extend from 1877 through 1995, although only 3 interments have occurred since 1945.
In 1948 the land surrounding this parcel was developed by Redwood Lumber Company for an uplands mill and the cemetery was largely abandoned with no apparent provision for long-term stewardship.  Site maintenance was left to individual descendants, or to volunteer community groups.  Although a public access easement to the cemetery was recorded in 1889, in recent decades lumber company owners of the Mill Bend parcels have allegedly discouraged access by community groups for maintenance activities at the site due to liability concerns.  Prior to this year, the last cleanup effort was undertaken by the Lions Club in 1970.  After decades of neglect, most of the perimeter fencing had disappeared, and family plots and gravesites were overrun and damaged by invasive vegetation.  Vandalism also occurred, including the removal of monuments and other grave artifacts.
In the spring of 2021, RCLC Board Member Kay Martin organized an ambitious restoration plan for the site in collaboration with members of The Sea Ranch Hot Shots and the Gualala Lions Club.  A core group of dedicated volunteers met onsite weekly to reestablish the cemetery boundaries and clear the grounds and grave sites of invasive vegetation.
A Sea Ranch Foundation grant and a generous donation of materials from local contractor Butch Andersen and from Sea Ranch Supply were utilized to finance the initial construction of perimeter fencing, with subsequent phases funded by the cemetery worker-volunteers themselves.  Special thanks in this regard go out to Eric Agnew, Loren Adrian, Perk Perkins, and Jim Nybakken of The Sea Ranch Hotshots, and to Barbara Gomes, Marty Linker, and other Lions Club volunteers.  Appreciation is also extended to Marcia Nybakken, Marilyn Green, Anne O'Donnell, and Susan Moreschi for their sensitive caretaking of gravesites and artifacts, and for preservation of onsite native plants.
Work at the Gualala Cemetery continues, including restoration and repair of designated family plots, identification of unmarked grave sites, weatherization of perimeter fencing, monument cleaning and repair, landscape planning, installation of handmade benches, and interpretive signage.  New volunteers and supporting donations to the RCLC Gualala Cemetery Fund are welcomed.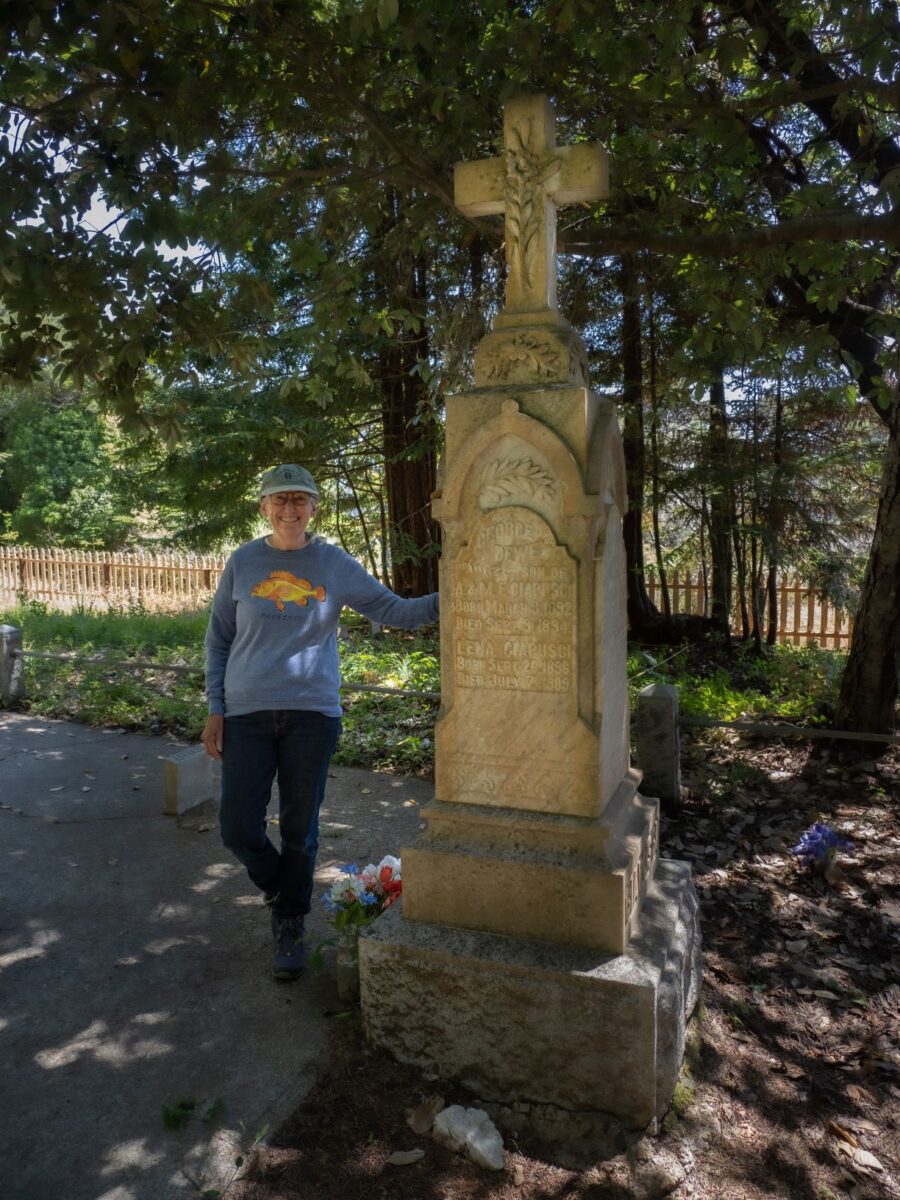 Marilyn Green at the Gualala Pioneer Cemetery, Photo by Craig Tooley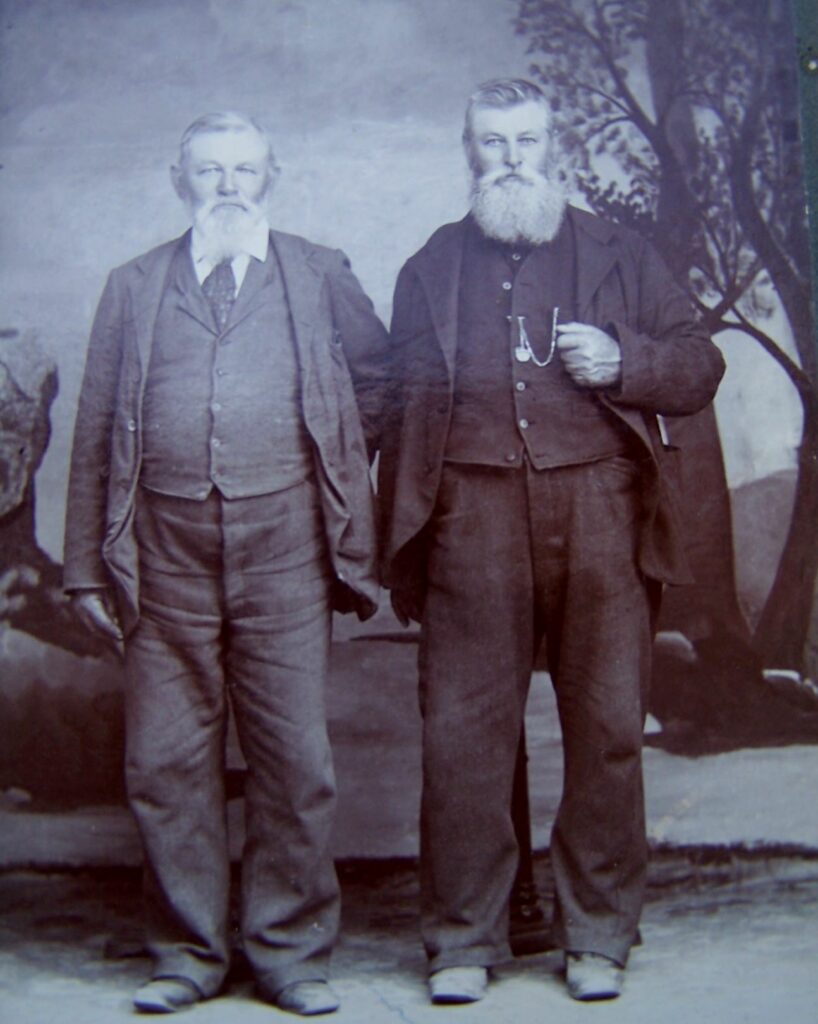 A photo of Isaac Newton Hitchcock (1833-1912) and his brother John Harrison Hitchcock (1830-1917).  Isaac, two of his sons, John and William, and his wife Susan are buried at the Gualala Pioneer Cemetery. Photo from the family's archives.
Watch this wonderful and artistically edited video tour of nature and artifacts of the pioneer cemetery by Allen Francis: