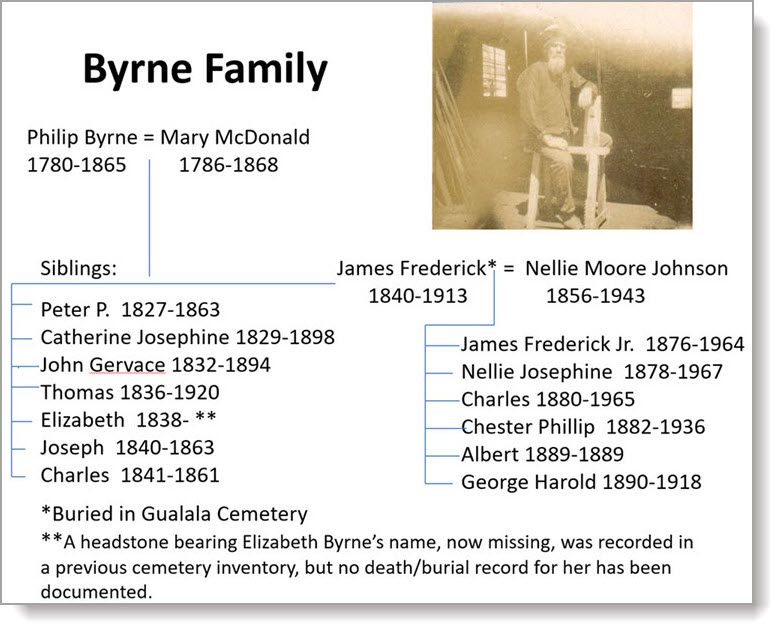 BYRNE FAMILY NARRATIVE*
James Frederick Byrne was born in New Brunswick, Canada in 1840, one of eight children of Philip Byrne and Mary McDonald. By 1869, James had emigrated to California, and lived in various parts of the Mendonoma Coast for about a quarter century prior to this death in 1913. He was a carpenter, wagonmaker, and blacksmith by trade, but also worked at various points in his life as an innkeeper, postmaster, and banking agent. He was the first manager of the Salt Point Hotel in 1874, and also served at that time as a constable of the Timber Cove township.
Also In 1874, at the age of 34, he married 17-year-old Nellie Johnson, a new appointee from Petaluma who assumed the position of teacher at the Timber Cove school. According to a narrative written by one of the couple's great granddaughters, James schemed to win Nellie over by bribing young hooligans with nickels to stage fights at the school. He would then venture from his blacksmith shop across the street to break up the fisticuffs on behalf of the teacher. The Byrnes went on to have six children, one girl and five boys, one of whom died in infancy.
The family moved to Black Point around 1880, where Knipp and Stengel had built a hotel and smithy, and where William Bihler had constructed chutes and a landing for the shipping of lumber products. There James Byrne ran the post office in the hotel, and also served as a Wells Fargo agent. He became a naturalized American citizen in 1885. Although the Byrne family is reported to have owned about 320 acres of land in Fisherman's Bay, they moved up the coast to Mendocino County after 1890. James spent the last several years of his life in Gualala.
When James died in 1913, he was survived by his widow Nellie and five children. His daughter, Nellie Josephine, was an amateur photographer, and took the photographs of her father included with this narrative. She married George Williams, an engineer on the Gualala Railroad, who, after the Empire Redwood mill burned to the ground in 1906, became an engineer on the Skunk Train line from Fort Bragg to Willits. Although one son, George Harold, lived in Gualala at the time of his father's death, sons Chester and James Frederick (Albion) and Charles (Point Richmond) had left the area. James's widow Nellie died some 30 years later in 1943 at the home of her son Charles.
The Byrne family plot at the Gualala Cemetery has a distinctive border, consisting of hand-forged iron posts connected by a chain, likely constructed by family smiths. This plot, like many others, has been the target of vandalism over the years. Descendants report that the original wooden grave marker was stolen in the 1940's, replaced, and then stolen again in recent years. Family lore also reports that the original chain to the plot was removed some years ago to tow a car and never returned. Local historian Susan Clark recorded two Byrne headstones in the 1970's, one for James and one for Elizabeth Byrne, whose name and 1838 birthdate corresponds to that of James's sister. It is therefore possible that Elizabeth is also buried at the Gualala Cemetery, although there is no longer a headstone or other verifying documentation.
*Special thanks to Mark MacKenzie, great-great-grandson of James Byrne, for providing family history information and photographs; and to Perk Perkins for research on James Byrne and family in local historical publications.