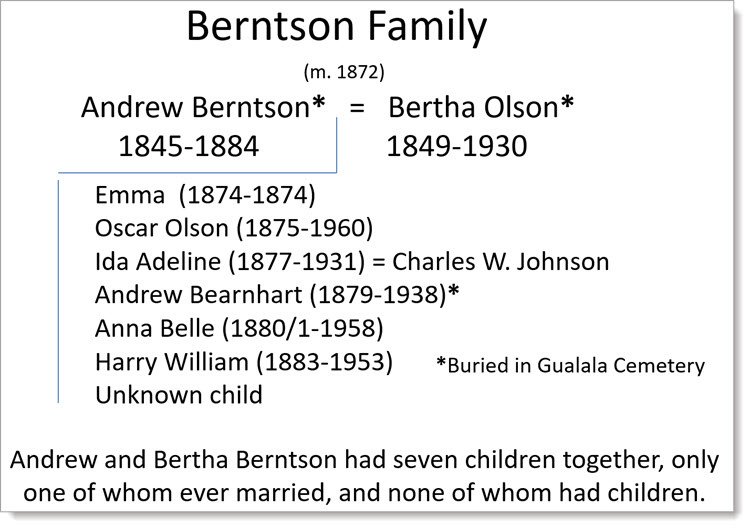 BERNTSON FAMILY NARRATIVE

NOTE: The Berntson family also went by the last name Benson. Their name is also found as Berntsen.
Andrew Berntson (Anders Berntson) was a native of Norway, born 15 January 1845. He emigrated to the United States around 1870 with his brother, James Berntson, and other siblings. The Berntson siblings settled in San Francisco, where Andrew worked in the shipyards.
In 1872, Andrew married Bertha Olson (Berte Oleson), also a native of Norway, on 7 October in San Francisco. The family attended church at the Ascension Lutheran Church, which is likely where they were married. Bertha emigrated to the United States in 1870 with many of her siblings, including: August Olson, Kund Olson, Samuel Olson, and Regenheldt Olson and possibly their parents. At least one sibling remained behind in Norway. She was born 4 April 1849.
The Berntson and the Olson families were part of a post-Civil War Norwegian emigration surge. Between 1825 and 1925, Norway lost over one-third of its population to those that had "America Fever." Most of the Norwegian immigrants in America found their way to the newly opened lands of the Midwest, settling in Minnesota, Wisconsin, and the Dakotas. Some, like the Berntson's and the Olson's made their way to the Pacific Coast.
By 1879, Andrew and Bertha had migrated north to Stewarts Point, Sonoma County, California. They likely lived with or near Bertha's sister, Regenheldt Olson, who had married Michael Williams. The Williams Ranch was located near Clarks Crossing (between Stewarts Point and Annapolis), and was passed down through Regenheldt's daughter, Regenheldt Williams Rasmason's family, and was purchased by the Richardson family in 2002. Moving to Gualala by 1881, Andrew worked at the Gualala Mill, and then the family had moved up to Elk Prairie by 1883. On 1 July 1884, while working in the woods near Gualala, Andrew was killed by a falling tree. An inquest was held, and his death was determined accidental. The owners of the Gualala Mill allowed Bertha and her children to have a lifetime estate in their home at the Gualala Mill. Bertha and Regenheldts children were close, and often spent time with each other. The Williams family held at least one dance, when the Berntson's daughter, Anna Belle, came to visit.
Life for this family was typical of those that worked in the Mill. They migrated where the work was, attended church at the Gualala Church, and the children attended the Gualala School. After Andrew's death, Bertha continued to live in Gualala, but would spend the winters in Willits and/or San Francisco with her daughters, Ida Berntson Johnson and Anna Berntson. Bertha died 11 February 1930 at home in Gualala, after being ill for five years. Andrew, Bertha, and their son Andrew Bearnhart are all buried in the Gualala Cemetery.
Andrew and Bertha had seven children:
Emma Berntson (1874-1874): Emma was born in San Francisco on 9 Mar 1874. She died on 10 July 1874. Her cause of death is unknown. She was buried in the Odd Fellows Cemetery in San Francisco, and later removed to the Odd Fellows Cemetery in Colma.
Oscar Olson Berntson (1875 – 1960): Oscar was born in San Francisco on 25 October 1875. He died on 12 August 1960 in Crescent City, Del Norte County, California. He lived much of his life in Crescent City on fifth street and worked as a janitor at Del Norte High School. He later took over his uncle's job as janitor of the Del Norte County Courthouse. Oscar is buried in the IOOF Cemetery in Crescent City.
Ida Adeline Berntson (1877 – 1931): Ida was born in San Francisco on 16 April 1877. She died on 27 August 1931 in San Francisco. She was the only child of Andrew and Bertha who married. Her husband was Charles W. Johnson, an emigrant from Sweden. They lived in Little Lake (present day Willits), Mendocino County, California, where Charles was an edgerman in the mill. Eventually they moved back to the coast, living in Point Arena. Both Adeline and Charles are buried at the Cypress Lawn Garden Cemetery in Colma. They had no children.
Andrew Bearnhart Berntson (1879-1938): Andrew was born in the Salt Point Township on 28 September 1879. He worked throughout his life in the timber industry, winding his way through Mendocino and Humboldt Counties. He first worked in the mill in Little Lake (Willits) along with his brother, Harry, and brother-in-law, Charles Johnson. In 1917, he was working for the Pacific Lumber Company in Scotia, and then by 1920 found himself in the town of Newburg, just east of Fortuna, established and built by the Eel River Valley Lumber Company in 1884. Today, Newburg no longer exists, the buildings, mill pond, and railroad tracks have all disappeared.
He worked in Newburg for a few years, and then Andrew migrated to Metropolitan, working at the Metropolitan Lumber Company as a millhand. This small company town consisted of 25 homes, a hotel, and store. Like Newburg, it no longer exists, having been destroyed by the Eel River Flood of 1964.
Like so many in the timber industry, Andrew found himself in the storied company town of Samoa, working for the Hammond Lumber Company. By the time he arrived here, he was working as a skilled millman, and lived in the company owned homes on the peninsula. Samoa, originally known as Brownsville, served as a prisoner of war camp for Native Americans captured in the Bald Hills War, and then a dairy farm, before it became the heart of Humboldt County's timber industry. The sawmill was built in 1892, and the Samoa became the largest mill site in Northern California. Today, it is one of the very few company towns that still have inhabitants. Around 1827, Andrew moved ashore to Eureka, living on Summer Street, with some of his co-workers from the mill.
Moving back to Mendocino County in the 1930's, worked in Albion and then shortly before his death in 1938 moved to Stewarts Point, likely living with his Williams cousins. Andrew never married and had no children. He is buried in the Gualala Cemetery.
Anna Belle Berntson (1880/1-1958): Records conflict as to Anna's exact year of birth, but she was born on 30 July in either 1880 or 1881. As a young woman, she moved to San Francisco, and then returned to the coast, working as the Chief Operator for the telephone exchange in Gualala, and then later as the post mistress, retiring in 1951. She lived in the family home until her death in 1958. Anna is buried in the Odd Fellows Cemetery in Point Arena. Anna never married and had no children.
Harry William Berntson (1883-1953): Harry was born at Elk Prairie, Mendocino County, California on 9 July 1883. He migrated to Little Lakes (Willits), where he worked in the mill and lived with his brother, Andrew, and next door to his sister Ida, and her husband Charles. At some point, he moved to Crescent City, living with his brother Oscar and uncle James, probably still working in the timber industry, before he moved back to the coast and lived with his sister, Anna, until her death. Harry died after a series of strokes, in Fort Bragg, California on 7 July 1953. He is buried in a shared plot in the Odd Fellows Cemetery in Point Arena. Harry never married and had no children.
Unknown Child: Census records indicated that Bertha had seven children, and five of them were alive in 1900. The unknown child was either born before Emma, or sometime between 1880 and 1900, and died young.
Research by Kelly Richardson, Anchored Genealogy